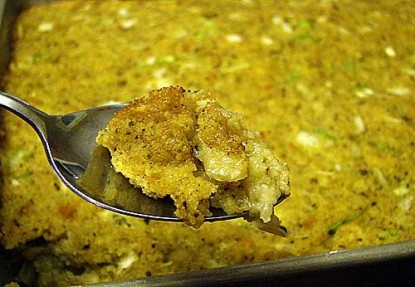 Difficulty: Easy
Servings: many
Prep Time:
30 minutes
Cook Time:
1 hour
Ingredients
7 cups cornbread, crumbled
3 cups white bread, crumbled or cubed
2 cups celery, chopped
3 cups onions, chopped
2 tablespoons poultry seasoning
1 teaspoon sage
1 teaspoon salt
1/2 cup butter, melted
3-4 cups chicken or turkey broth
3 eggs, lightly beaten
Directions
Place the crumbled cornbread and white bread in a large mixing bowl. Add chopped celery and onions. Mix.
Pour the melted butter over all the ingredients along with 3 cups of the broth. (ONLY add 3 cups just yet! Wait on the last cup. More info on that below.) Add the seasonings gradually. Test to your taste.
You may like more or less of any of the seasonings. Poultry seasoning usually includes thyme, sage, marjoram, rosemary, and black pepper. If you have a particular dislike for any of those, you can add the seasoning separately for each herb you choose. I also add the extra teaspoon of sage, which is enough for me. You may like it more sagey. (Or less.) Use more, or less, of the salt.
The dryness or moistness of dressing is also taste-specific. You may prefer yours more crumbly. If you only use three cups of the broth, you'll get a more "Stouffer's"-like consistency, if that's what you're used to and prefer. I use four cups of turkey broth in mine. I like it moist. I roast turkeys throughout the year. I save the broth over from one to the next for various uses. (I freeze it in quart jars, leaving enough head space. You can also use home-canned broth, or just buy chicken broth from the store.)
Do all your taste-testing before adding the eggs. Add the fourth cup of broth if you like. When you're sure you're satisfied with how you've seasoned it, add the eggs. Mix well and spoon into a greased 9 x 13 casserole pan. You can refrigerate it overnight (or even a couple of days). It's truly best when it's made ahead of time and left to sit, though you can bake it right away if you need to. It can also be frozen ahead of time. Let it defrost in the fridge until you're ready to bake it.
Bake at 350-degrees for 30 minutes, covered. Take the cover off and bake an additional 30 minutes.
Categories: Entertaining, Holiday, Old-Fashioned, Side Dishes, Stuffings
Submitted by: suzanne-mcminn on November 19, 2010