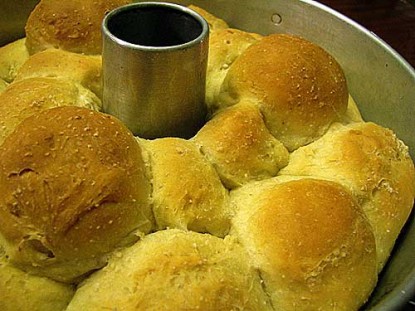 Grandmother Bread
recipe!)
Difficulty: Easy
Servings: 15-18 rolls
Prep Time:
2 hours
Cook Time:
15-20 minutes
Ingredients
1/2 cup cornmeal
1 1/2 cups warm water (divided)
1 teaspoon yeast
1/2 teaspoon salt
2 tablespoons sugar
1 egg
1/3 cup melted butter
3 1/2 cups flour*
Directions
*Flour measure is approximate–you may need slightly more or less. Use what you need to get a good, pliable ball of dough.
Place cornmeal in a large bowl. Add 1/2 cup very hot water. (Hotter than you usually would use in bread–not boiling, just hot.) Stir the water and cornmeal until the cornmeal is completely moistened. Let sit 10 minutes for the cornmeal to soften. Now continue on with the usual Grandmother Bread recipe instructions, adding the remaining water, yeast, sugar, and salt. Let sit five minutes. Add the egg and melted butter. Stir in the first couple of cups of flour with a heavy spoon. Continue adding flour a little at a time, stirring until dough becomes too stiff to stir easily. Add a little more flour and begin kneading. The amount of flour is approximate–your mileage may vary! Continue adding flour and kneading until the dough is smooth and elastic. Let dough rise in a greased, covered bowl until doubled. (Usually, about an hour.) Uncover bowl; sprinkle in a little more flour and knead again. With floured hands, shape dough as desired, into a loaf or rolls.
You can use a greased bundt cake pan to make a cornmeal bubble ring. Tear the dough into small pieces and shape into balls. It makes about 15 for me, but this will vary depending on the size of the pieces. Cover and let rise. (About an hour, depending on the temperature in your kitchen.) Bake for 15-20 minutes in a preheated 350-degree oven.
Categories: Breads, Entertaining, Holiday, Yeast Breads
Submitted by: suzanne-mcminn on November 19, 2010