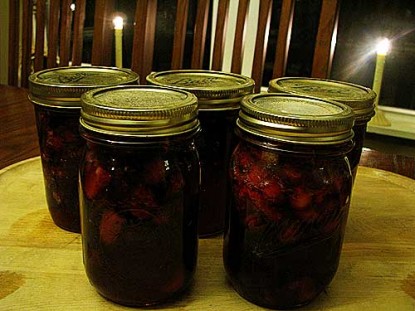 Difficulty: Easy
Servings: 5 pints
Prep Time:
30 minutes
Cook Time:
15 minutes
Ingredients
7 cups of cranberries
1 (heaping) cup seeded, chopped orange pulp
4 cups sugar
4 cups water
Directions
Wash and drain cranberries. Prepare orange pulp. In a large pot, combine sugar and water. Bring to a boil for 5 minutes. Add cranberries and orange pulp. Keep the pot at a boil. Do not stir. When the cranberry skins begin to break open, the mixture is ready.
Ladle into hot jars, leaving 1/4-inch headspace. Adjust lids and bands. BWB 15 minutes.
Categories: Boiling Water Bath, BWB Sauces, Canning, Condiments, Entertaining, Holiday, Preserving, Sauces
Submitted by: suzanne-mcminn on August 31, 2010