OK, all you dark chocolate purists out there–you may need to close your eyes for a few minutes, because what I'm about to say here, could–for you–border on blasphemy. I do apologize for that. Nevertheless, I feel compelled to forge ahead and share these daring words with you—you may want to sit down.
White. Chocolate. Fudge.
Be brave now–-I was a non-believer once too, but not anymore because this stuff will have you singing Hallelujah along with a couple of angelic choirs. Smooth, creamy, melt in your mouth goodness with tiny gumdrop dabs mixed in–for good measure. Heaven, I tell you–pure heaven!
Oh, and did I forget to mention that this recipe is easy and whips up dang fast? Well, I'm telling you.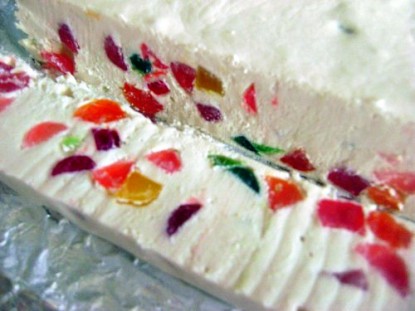 How to make Gumdrop Fudge:
Original recipe from Taste of Home
1-1/2 pounds white candy coating, coarsely chopped
1 can (14 ounces) sweetened condensed milk
1/8 teaspoon salt
1-1/2 teaspoons Pure Vanilla Extract
1-1/2 cups chopped gumdrops– we used Dots
Line a 9-inch square pan with foil; set aside.
In a heavy saucepan, combine the candy coating, milk and salt. Cook and stir over low heat until chips are melted.
Remove from the heat; stir in vanilla and gumdrops.
Spread into prepared pan. Cover and refrigerate until firm. Using foil, remove fudge from the pan. Cut into 1 inch squares. Store at room temperature.
Get the handy print page and save this to your recipe box here:
Gumdrop Fudge.

Launi blogs at Gracious Rain.


Do you have a Christmas recipe post or kitchen-related story to share on the Farm Bell blog?
Read information here for Farm Bell blog submissions.

Want to subscribe to the Farm Bell blog? Go here.