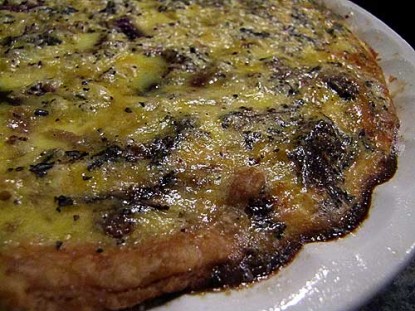 Difficulty: Easy
Servings: 8
Prep Time:
15 minutes
Cook Time:
50-55 minutes
Ingredients
pastry for single-crust pie
6 slices bacon
1 small onion, chopped
3 beaten eggs
1 1/2 cups milk
1/2 teaspoon salt
1/2 teaspoon pepper
1 1/2 cups Swiss cheese, shredded
1 tablespoon flour
Directions
Bake pie shell in a 450-degree oven for approximately 10 minutes, or until browned. Remove pie shell from oven and turn oven down to 350-degrees.
While pie shell is baking, cook bacon; drain and crumble. In the bacon drippings, saute chopped onions; drain. In a medium-size bowl, whisk eggs and milk. Add salt and pepper. Toss shredded Swiss with the tablespoon of flour; add to egg/milk mixture and stir. Add crumbled bacon and sauteed onions. Mix well and pour into baked pie shell. Bake 40-45 minutes or until set.
Categories: Cheese, Dairy, Eggs, Main Dish, Pork
Submitted by: suzanne-mcminn on December 16, 2010