It was the depression. We had a small farm with such good soil that we could grow anything planted. We had potatoes, corn, beets, turnips, broccoli, cauliflower, and lots of good things. We had an orchard with trees laden with apples, pears, plums, and cherries.
We had a few cows that gave us milk to drink. My mother would churn butter, make cheese, and curds and whey.
We raised a few chickens that laid eggs. If a chicken got too old to lay we would butcher it and have a chicken dinner.
My clothes were tattered and patched. My father used to tell me to be thankful that I had enough to eat. I later realized what he meant when I saw and talked with my school friends. Their clothes were tattered and patched, too. When my friends told me how they often went to bed hungry, it made me very sad. My mother always managed to have something in my lunch pail. With a heavy heart, I remember that sometimes when I finished my lunch some of my friends would come to see if there was anything left that they could have–often, I would leave a little extra on purpose.
In the summer, I went barefoot. In the winter, when my father butchered a cow, or deer, or elk, or even a bear, he would save the skins. He would cut off strips of hide and tie them around my feet and legs. We called these 'Onoochki.' One very cold winter, he took a strip of hide and made me a cape-like coat. Once, he took some hide, stuffed it with straw, sewed it up, and I had a football.
These are some of my memories of the depression.
Great Gampy Farmer wrote down his memories of the Great Depression almost 35 years ago. He was the son of a farmer.
Like me, he had a thing with hats. This sombrero has gone full circle. Here it is on Great Gampy Farmer. I think he looks good in purple….and sequins.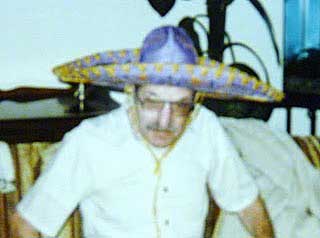 The footsteps of those before us…. If only Gammy Farmer's shoes could talk–oh, the questions I would ask. They have been used–really used. Yet, the shoe strings are near pristine. I think these strings never dragged upon the floor or dirt road. I think Gammy Farmer's shoes were always neatly tied. Do you think Great Gampy Farmer took pride in knowing Gammy Farmer had shoes? Did he teach her to appreciate her shoes? Did she walk to him, when they became untied, and ask him to tie them for her?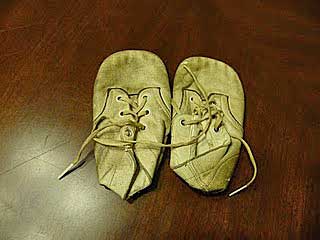 Why do you think Gammy Farmer bronzed my farmer's shoes? Was it a trend of the time? Or, are they like a message in a bottle? Are these bronzed shoes, frozen in time, carrying the message–'appreciate that you have shoes?'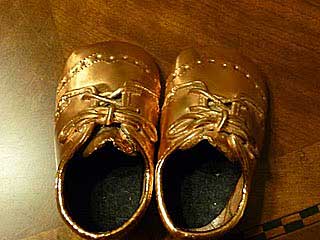 I keep my shoes and the shoes of Gammy Farmer, together, side-by-side. The shoes are different–they are from different times, different generations, and they hold different stories. Yet, their message is the same.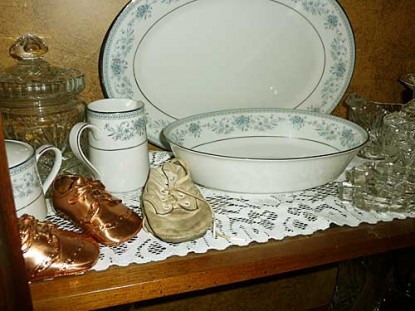 The sombrero isn't the only thing to go full circle. I think Great Gampy Farmer would have been proud that I can make my own cheese, that I even know what curds and whey are, and if need be, I would not hesitate in making Onoochkis for my own.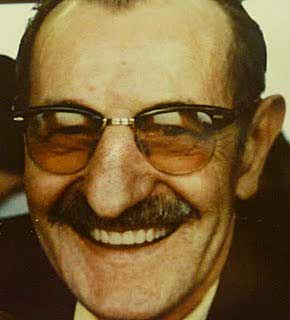 Every day is a good day to appreciate your shoes. At least, that is what this farmer, granddaughter to the Great Gampy Farmer, the son of a farmer, believes.
Farmer blogs at Rose Hill Farm.

Interested in contributing to the Farm Bell blog? Read information here for Farm Bell blog submissions.

Want to subscribe to the Farm Bell blog? Go here.