How do you go from this?
To this?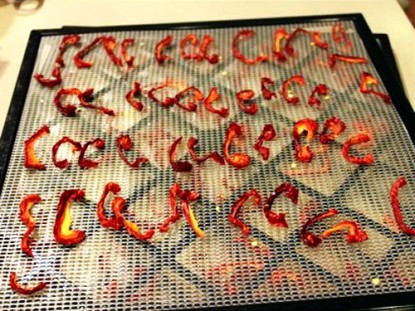 Or this?
To this?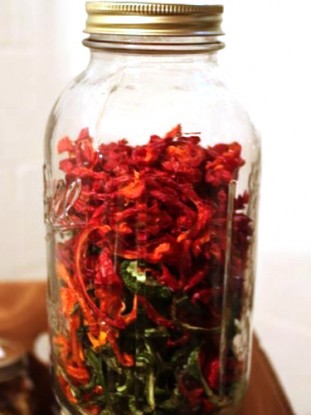 It's magic. Pure magic. Just kidding – but it sure can seem like it. With the help of a few pieces of kitchen equipment you can participate in the oldest method of food preservation – dehydrating.
I grew up eating dehydrated apples all winter long. In our area, they're called snitz. Snitz pie was enjoyed just as much as fresh pie. I'm not quite sure how my parents and grandparents dried their goodies, I just know I enjoyed them.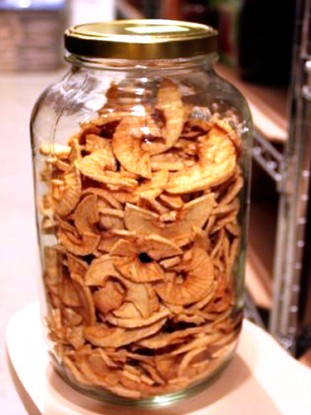 I bought my first dehydrator about 20 years ago. It was a round unit with a heating element in the bottom and trays that stacked on top. It would do a good job with apples, onions and peppers if I remembered to move and re-stack the trays. Simple and effective. My kids would eat the apples faster than I could dry them so I never worried too much about storing them long-term.
About 3 years ago, I heard about a wonderful type of dehydrator called the Excalibur. It had 9 trays, a fan in the back and a thermostat to control the temperature. I waited until I found a good price and bought one. I haven't stopped using it since the day it arrived. I used my Excalibur so much that I now have a total of 3 Excalibur dehydrators. I share the one with a friend. I have no problems keeping them running around the clock from about May through December. In the winter, one sits in my kitchen constantly drying some treat or goodies. My hubby calls it our red-neck heat pump.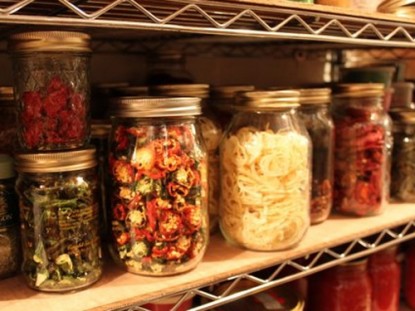 What on earth could anyone find to dehydrate? Here's a brief list from the past few months: strawberries, blueberries, peaches, apples, mango, pineapple, grapes, pears, bananas and fruit leather made from all of those fruits or combination. Also, frozen veggies of all kinds. A local grocery store has their frozen veggies on sale for $0.79 per pound in the fall. I buy as many as I can afford and just dump and dry. They're great in soups, stews, side dishes, etc. Lots of fresh veggies from the garden or ones that are getting tired in the fridge go into the Excal. Potatoes in slices and dices. Mushrooms, tomatoes, tomato seeds and skins, peppers, both sweet and hot, onions, garlic, leeks, shallots, zucchini, squash and pumpkin. Herbs of all kinds and forms. Mints for teas and lots of things that I'm probably forgetting. I proof bread and make wonderful yogurt, all in my Excalibur. This piece of kitchen equipment has paid for itself many times over.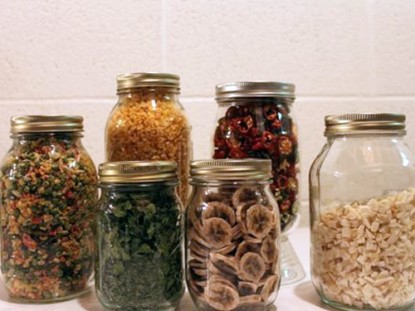 Some of the more interesting things I've dried include: My husband and daughter's cell phones. Both were dropped in water, both continue working today. My Ball Blue Book that I dropped in the canner. Mittens and gloves. My wallet, it went through the wash. My friend dries treats for her dog that she makes out of gizzards, hearts and livers from their chicken processing days. They must be yummy because she makes best friends with every dog she meets.
I have jars of my dehydrated goodies waiting in my basement. Mondays are my soup day throughout winter. I just grab a few jars and mix a little of this and a bit of that and manage some very tasty bowls of yummy goodness. The chopping and cutting have all been done. In less than 5 minutes I can have my ingredients in the crockpot before I'm out the door. When we come home from work, we're greeted with the delightful smell of homemade soup.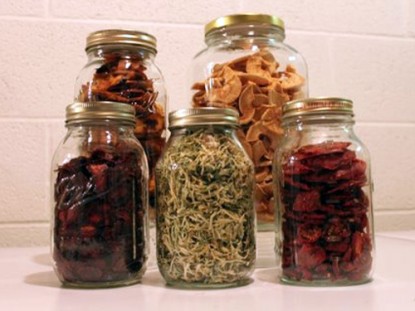 If you haven't considered dehydrating or only make jerky, look into it a bit further. You may be surprised at all the treats that can come from just a bit of work. It's another method of food preservation that can expand your food storage, help you rely less on the freezer and provide delicious foods for your family and friends.
You can also find kellyb at Yahoo's Canning2.

Interested in contributing a guest post to the Farm Bell blog? Read information here for Farm Bell blog submissions.

Want to subscribe to the Farm Bell blog? Go here.