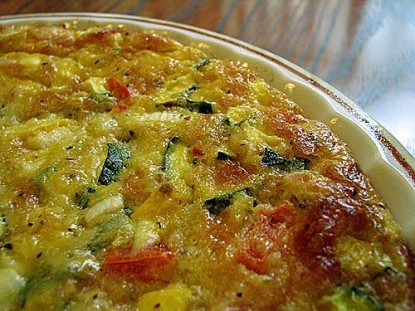 Difficulty: Easy
Servings: 6-8
Prep Time:
15 minutes
Cook Time:
40 minutes
Ingredients
1/2 cup halved cherry tomatoes
1 cup yellow squash, chopped
1 1/2 cups zucchini, chopped
1 cup onion, chopped
4 eggs
1 cup Quick Mix or your favorite baking mix
1/2 cup sour cream
1 tablespoon olive oil
1/2 cup grated Monterey Jack and Cheddar cheese blend
1 tablespoon minced garlic
1/2 teaspoon Italian seasoning
1/2 teaspoon salt
1/4 teaspoon pepper
Directions
Combine chopped vegetables in a large bowl. Add eggs, baking mix, sour cream, oil, cheese, garlic and other seasonings all together. Mix well. Pour into a greased 9-inch pie pan. (It will look as if it won't fit into the pie pan, but it will!) Bake at 350-degrees for approximately 40 minutes. (Do you see how brief the instructions are for this recipe? It's easy.)
More ideas: Instead of cherry tomatoes, squash, zucchini, and onion, use four cups of whatever you like (or are over-run with this summer). Use all zucchini. All squash. Or any combination of your favorite vegetables. You can even substitute one cup of the vegetables for a cup of cooked, chopped or ground meat for a main course. Use different cheeses and seasonings. Anything goes in this pie! You can also bake it in an 8-inch square dish instead of a pie pan.
*For the baking mix, I use my homemade Quick Mix.
Categories: Budget, Eggs, Main Dish, Potluck, Vegetarian
Submitted by: suzanne-mcminn on September 8, 2010