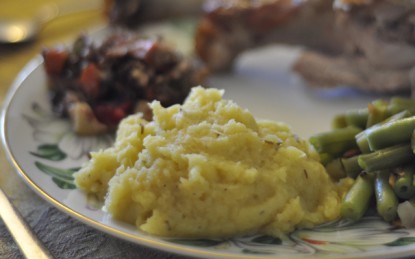 Difficulty: Easy
Servings: Approx. 7, depending on squash size.
Prep Time:
Approx. 10 min.
Cook Time:
Approx. 1 hour
Ingredients
2 Large Acorn squash or 1 Large Buttercup
1 tsp Salt
1/2 tsp Garlic Powder
1/2 tsp Rosemary Leaves, crushed
1/4 tsp Black Pepper
1/2 Cup milk (warmed)
1/4 Cup butter (melted with the milk)
1 tsp Parsley (fresh is best, but dry works great)
Directions
Pre-heat oven to 350F. Cut squash in half, remove the seeds, and then place cut-side-down in a baking dish with 1/4 inch of water.
Bake for about 45 minutes or until soft enough to remove the 'meat' from the shell. Drain the water.
Remove the 'meat' from the shell into a large mixing bowl.
With a potato masher, blend salt, garlic, rosemary, and black pepper in with the squash.
Gradually add the milk and butter, mashing well, and then stir in the parsley.
Return the squash mix to the baking dish. About 20 minutes before serving, return it to the oven UNcovered — this removes the excess moisture from the squash and also keeps it warm, of course! 🙂 It's better than microwaving.
If it tastes like it needs it, add some more seasoning, but most of all… Enjoy!
Categories: Entertaining, Gluten-Free, Gourmet, Holiday, Low-Carb, Other Side Dishes, Other Special Diets, Potatoes, Side Dishes, Special Diets, Vegetables
Submitted by: lisadreamart on September 7, 2010