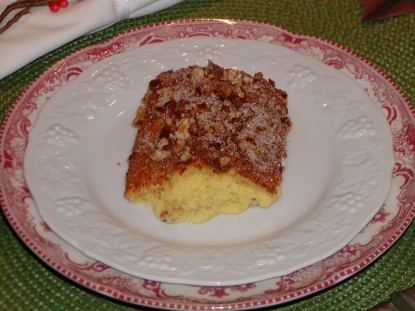 Difficulty: Easy
Servings: 8-10
Prep Time:
10 min.
Cook Time:
35 min.
Ingredients
2 pkg. refrigerated Crescent rolls,
2 (8 oz) pkg. cream cheese,
1 C sugar,
1 egg yolk (save egg white),
1 tsp. vanilla
Topping:
1/4 C sugar,
1 tsp. cinnamon,
1/4 C chopped pecans
Directions
Beat cream cheese, sugar, egg yolk and vanilla together. Grease a 9X13 inch pan. Pat in 1 pkg. of crescent rolls, patting dough to make it one solid piece. Spread on cheese mixture. On a piece of waxed paper, pat out other pkg. of crescent rolls to make one piece the same size as the pan and turn over onto top of cheese mixture and peel off waxed paper. Brush with egg white and sprinkle with sugar and nut topping.
Bake at 350 degrees for about 35 minutes till crust is golden brown.
Categories: Breads, Breakfast, Cheesecakes, Coffee Cake, Desserts, Entertaining, Other Desserts, Pastries, Rolls, Special Occasions
Submitted by: scorwin on May 4, 2010