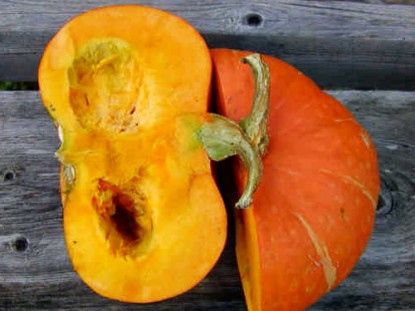 These muffins are delicious, so dense and moist! It's a good way to get squash into those folks who won't usually eat it. Just don't tell them.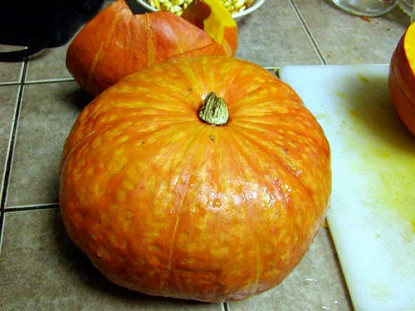 They are best made with real cooked and mashed winter squash, either fresh or from the freezer. Just, please, don't use that canned stuff!!
First, cut open your fresh squash and scoop out the seeds and inside. Save the seeds for roasting 😉
Cook the squash.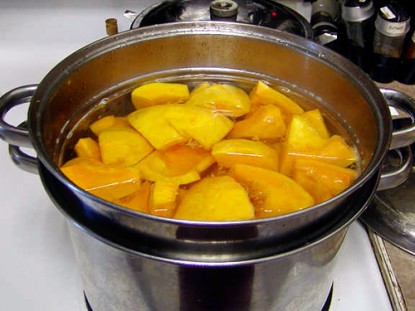 There are several ways this can be accomplished.
Baking: Turn squash halves upside down in a pan with a little water and baked for about 45 minutes in the oven. Let cool and scoop cooked squash out of peel.
Boiled: Peel and cut into big chunks. Bring to a boil and cook for only 10 minutes. If it cooks in the water for too long, it will be too wet. Drain well and mash. A potato masher works well for this, as does a ricer.
Microwave: I have never tried that as you can only do one piece at a time and I am usually processing many squash at once for the freezer.
When the squash is well done, mash it with a potato masher. What a beautiful bright orange this is! Lots of beta carotene!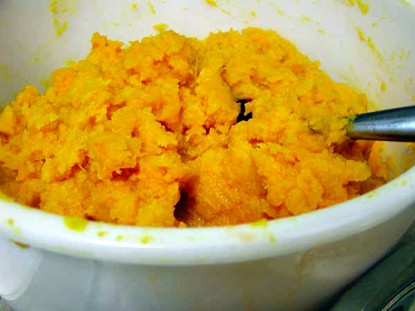 Baking is easier but I had squash pies in the oven so I peeled and boiled this.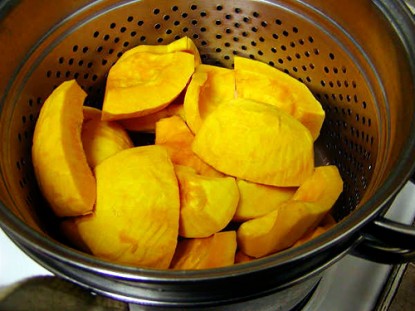 How to make Squash Muffins:
1 cup squash, cooked and mashed
1/3 cup oil
1/4 cup light corn syrup
3 teaspoons baking powder
1/2 teaspoon cinnamon
1/4 teaspoon nutmeg
1 cup sugar
2 eggs
2 cups all purpose flour
1/2 teaspoon salt
1/2 teaspoon ginger
1/4 teaspoon mace
Raisins (optional)
Makes 1 dozen muffins.
Preheat oven to 350F.
Mix the wet ingredients together in a big bowl.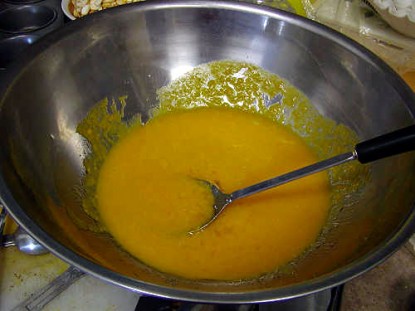 Then mix the dry ingredients together in another bowl.
Stir the dry ingredients into the wet ones until well mixed.
Spoon into muffin papers or a greased muffin pan. Fill quite full as they don't rise a lot.
Bake at 350F for 20-23 minutes until barely starting to brown on top.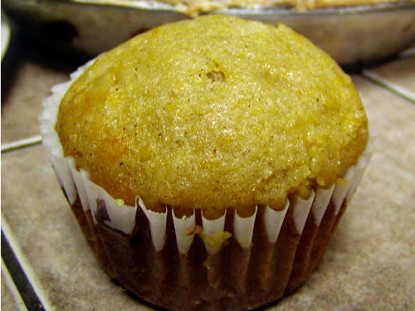 Delicious hot with real butter or at room temperature! Good in lunches too!
Get the handy print page and save this to your recipe box here:
Squash Muffins.

Sheryl blogs at Providence Acres.

Interested in contributing a guest post to the Farm Bell blog? Read information here for Farm Bell blog submissions.

Want to subscribe to the Farm Bell blog? Go here.