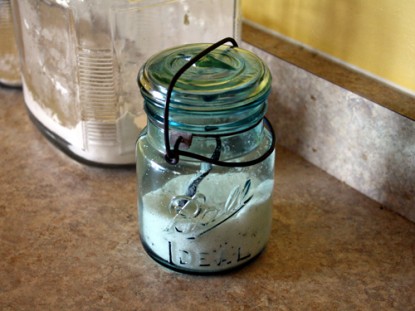 What does it mean to be a "strong woman"? I hear that term bandied about by others, and I'll admit it, not infrequently in my own head. Always this illusive objective. Why is it always that adjective? And what does that say about me?
My favorite picture of my grandmother is this image of this very fifties housewife, in a silk blouse and pearls holding up my infant father. It really captivates me. She's not unfamiliar. But she's not known to me, either. In my memory she's wearing polyester slacks and a v-neck sleeveless button up shirt, and she's bent over in a strawberry field picking with me and my little sister. She's putting my grandpa's supper down on the TV tray as they sit down to watch People's Court. She's getting under the blankets with me and watching Karate Kid on the TV in her room during one of our Friday night sleepovers, because tonight it's my turn.
And I think there is always this magical mystery to grandparents because you arrive on the scene so far into their story. If I stop to think about it, I could mine my grandmother's life for romance and drama and adventure and heartache. But I won't. Because it is enough to know from the sketch I've been given that she too, has experienced such things.
Is she a "strong woman"? She came to a new country and taught herself a new language and crafted for herself a new life. She also suffered pregnancy loss and survived. So maybe, yes, she passes the litmus test for strength and fortitude.
But her gift to me is not words of wisdom for my road ahead. In fact, I can't think of a single conversation I have had with her that has been remarkable. They haven't had to be, because her life is remarkable. Not because she has independent wealth, or a thriving social life, or physical veracity. She has none of those things. In all things, she has just enough and for the rest she rests in her quiet and steadfast faith.
How hard is it to live like that? With just enough for each day and each challenge as it comes. We all want the force of belief, the hope, and the love it takes to move a mountain. But how easy is it to find satisfaction in merely the strength it takes for each leg of the path up to the summit when it becomes clear that the biggest hills in our lives refuse to be budged?
My Nana gave me this old Ball blue jar that I like to keep vanilla sugar in on my counter. She gave it to me last winter when I was at her house and I will always treasure it. It represents a link. My emerging interest in preserving comes from her. Whenever I see a mason jar I think of dill pickles, freezer jam, and her. This past summer, for the first time, I put up over a hundred jars of jams, relishes, and fruit and filled my chest freezer to the top with the harvest's bounty. I know that in carrying on this part of her passion, my Nana was proud. Yet, what I want to do more than anything is carry on throughout my life, not just her passions, but her character. Like opening a jar of July's gems on a cold winter's night, I find myself often in dark moments of my soul to be drawing on the legacy that she has placed within me. And that is the best preserving of all.


Do you have a recipe post or kitchen-related story to share on the Farm Bell blog?
See Farm Bell Blog Submissions for information, the latest blog contributor giveaway, and to submit a post.

Want to subscribe to the Farm Bell blog? Go here.
What can you enter to win this month? Click here.