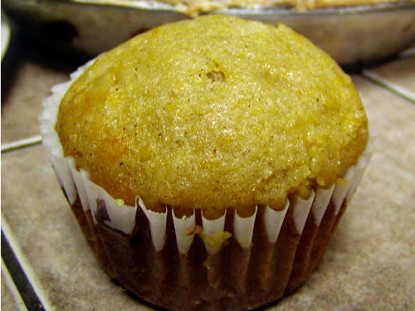 Difficulty: Easy
Cook Time:
20-25 min
Ingredients
1 cup squash, cooked and mashed
1/3 cup oil
1/4 cup light corn syrup
3 teaspoons baking powder
1/2 teaspoon cinnamon
1/4 teaspoon nutmeg
1 cup sugar
2 eggs
2 cups all purpose flour
1/2 teaspoon salt
1/2 teaspoon ginger
1/4 teaspoon mace
Directions
Preheat oven to 350F. Grease muffin tin or use papers. Mix together squash, eggs, oil and corn syrup in large bowl. Stir until well mixed. Stir all other dry ingredients together in smaller bowl. Add dry ingredients to squash mixture. Fill greased tins to the top. Bake in preheated oven for 20-25 minutes until lightly brown on top.
* Very good with raisins added, add raisins to batter if desired.
Submitted by: runningtrails on July 17, 2010