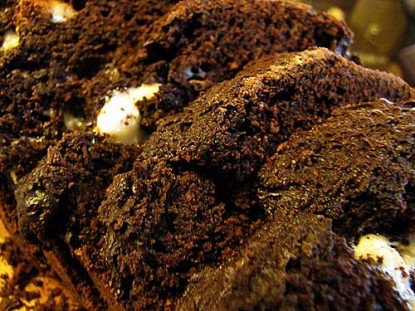 Difficulty: Easy
Servings: 12
Prep Time:
15 minutes
Cook Time:
1 hour
Ingredients
1/2 cup cream cheese, softened
1/4 cup butter, softened
1 1/2 cups sugar
1 egg
1 teaspoon vanilla
1 1/4 cups cocoa powder
1 1/4 cups buttermilk
2 1/4 cups all-purpose flour
1 1/2 teaspoon baking soda
1/2 teaspoon salt
3/4 cup mini marshmallows
Directions
Combine cream cheese, butter, and sugar. Cream with a mixer. Add egg and vanilla. Mix again. Add the cocoa powder and about 1/2 cup of the buttermilk; mix well. Add all the remaining ingredients (except the marshmallows) and stir to combine. Stir in the marshmallows. (If you don't have mini marshmallows, you can cut up big marshmallows.) Spoon into a greased loaf pan. This makes a large loaf–use your largest loaf pan.
Bake at 350-degrees for one hour.
Categories: Breads, Breakfast, Cheese, Coffee Cake, Dairy, Entertaining
Submitted by: suzanne-mcminn on November 4, 2010