Fall. Cooler weather. Iced teas and lemonades are put on the back shelf and thoughts start running towards warmer drinks.
One of my favorites is a flavored hot cocoa, mixed with coffee instead of water, using a cinnamon stick as a stirrer.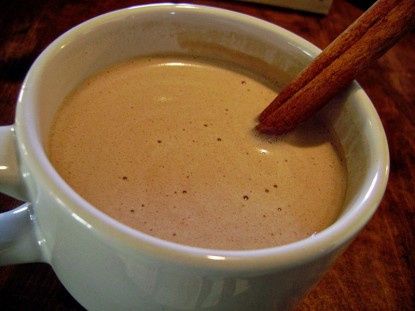 I make a big batch of flavored hot cocoa mix so it will last me all winter long, until the iced teas and lemonades make their appearance again. I also use it for Gift Basket Goodies!
Rich Hot Cocoa Mix – big batch:
1 (22 oz.) container flavored dry coffee creamer
1 (4 lb.) box non-fat instant dry milk
1 (32 oz.) bag powdered sugar
2 (28 oz.) containers chocolate milk mix
Sift (or put through blender) dry milk to make into powder. Add all ingredients to a large garbage bag (make sure it's unscented!). Firmly hold onto top of bag and turn bag upside down and all around until all ingredients are mixed. Pour into containers.
To make the hot cocoa, mix 1 part mix with 2 – 3 parts water.
Get the handy print page and save this to your recipe box here:
Rich Hot Cocoa Mix.
More cool weather drinks here on Farm Bell Recipes:

Coconut & Chocolate Drink
Homemade Hot Cocoa Mix
Vanilla Chai Tea Mix
Hot Buttered Rum Batter

Do you have one to share? Submit it here! Find all the beverage recipes here.

Cindy blogs at Chippewa Creek ~ Our Life Simplified

Interested in contributing a guest post to the Farm Bell blog? Read information here for Farm Bell blog submissions.

Want to subscribe to the Farm Bell blog? Go here.