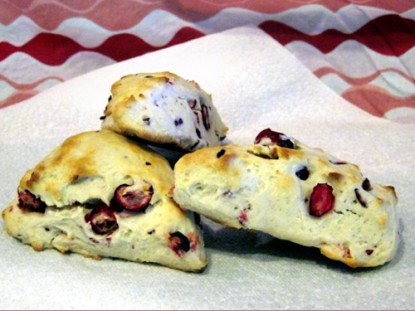 The holidays are over, and while you probably have finished off the last of the leftovers, you may not have had time to clean out the fridge. No doubt there are still a few items shoved in the back of the refrigerator that—while still good– they are quickly approaching their expiration date.
You know, like the half-full bottle of eggnog and the forgotten bag of cranberries?
You should use those up.
Perhaps by making some cranberry eggnog scones?
They are pretty easy to make–whether it's by hand or with a food processor.

How to make Cranberry Eggnog Scones:
2 cups flour
1/3 cup sugar
1/2 teaspoon baking powder
1/2 teaspoon salt
1/2 cup cold butter, cut into 1/4 inch squares.
1 cup fresh cranberries (or 1/2 cup chopped dried cranberries)
1 cup eggnog, 2 Tablespoons reserved
Mix the first 4 ingredients in a bowl, pour into the food processor.
Using the pastry blade, combine the chilled butter with dry ingredients until the dough clumps into pea-sized balls.
Add 3/4 cup plus 2 Tablespoons eggnog.
Blend until well combined.
Add in cranberries, mix well.
Remove dough from food processor, and form dough into a circle on a Silpat or lightly greased pan.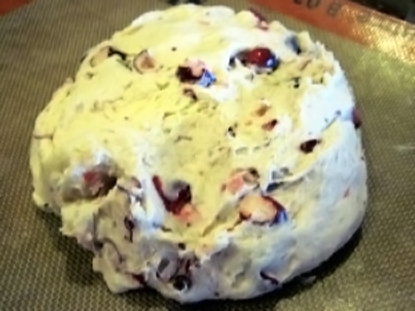 Using a large knife, cut the dough into 8 wedges.
Arrange wedges on Silpat, about 2 inches apart.
Brush the tops of the wedges with the remaining eggnog.
Bake at 450 degrees for 13-15 minutes.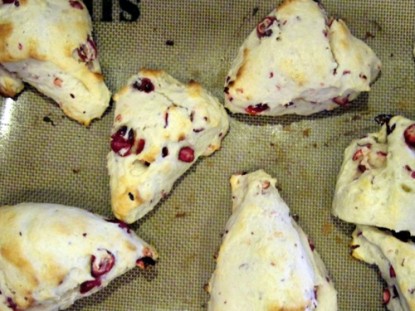 Serve warm, and enjoy!
Scones are sooo easy and sooooo good. Here, have a bite!
Get the handy print page and save this to your recipe box here:
Cranberry Eggnog Scones.

Larissa blogs at The Henway.


Do you have a recipe post or kitchen-related story to share on the Farm Bell blog?
Read information here for Farm Bell blog submissions.

Want to subscribe to the Farm Bell blog? Go here.