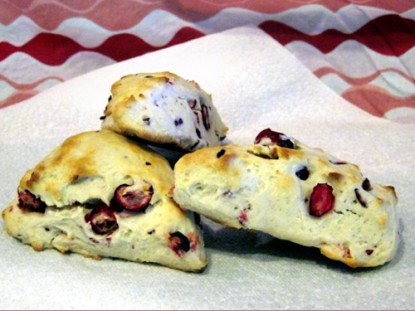 Difficulty:
Servings: 8
Cook Time:
13-15 min
Ingredients
2 cups flour
1/3 cup sugar
1/2 teaspoon baking powder
1/2 teaspoon salt
1/2 cup cold butter, cut into 1/4 inch squares.
1 cup fresh cranberries (or 1/2 cup chopped dried cranberries)
1 cup eggnog, 2 Tablespoons reserved
Directions
Mix the first 4 ingredients in a bowl, pour into the food processor.
Using the pastry blade, combine the chilled butter with dry ingredients until the dough clumps into pea-sized balls.
Add 3/4 cup plus 2 Tablespoons eggnog. Blend until well combined. Add in cranberries, mix well.
Remove dough from food processor, and form dough into a circle on a Silpat or lightly greased pan.
Using a large knife, cut the dough into 8 wedges. Arrange wedges on Silpat, about 2 inches apart. Brush the tops of the wedges with the remaining eggnog.
Bake at 450 degrees for 13-15 minutes.
Serve warm, and enjoy!
Submitted by: laree on January 4, 2011