We have wild grapes! We have probably always had wild grapes and I just didn't know it. We have a large grapevine on our old TV antennae attached to the back of the house, but I have usually cut it down every year. Last year I left it alone, mostly due to a lack of time and energy to deal with it. (Last year was the "year of the dogs" and a lot of things got "left alone".)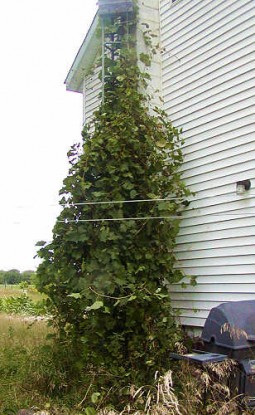 This year, I discovered grapes on it and the world of wild grapes opened up! It is covered with them, but there are even more growing and fruiting on a few back fence areas that I didn't know were there. At this time of year our back fence is unapproachable due to the goldenrod and blackberry bushes. With the hope of wild grapes in mind, I blazed a path through the weeds to the fence and found several enormous vines filled with grapes!
Half are ready now and half still need to ripen another week or so. Next week, on Monday morning, I will go grape picking again. The grapes growing in sunny areas are all ripe now. It is the ones in the shade against the woods that need to ripen a bit longer.
The picture at the top is what I picked now. I will probably get at least half that again in another week!
This is about 13 pounds of grapes. We weighed them at 11 pounds, then I found about 1/4 of a bucket more and added those. So I am estimating it at about 13 pounds. That's the minimum amount needed to make 5 gallons (23 litres) of wine. Since I know there are more coming next week, I am going to wait. I do have some older, extra large 6.5 gallon carbuoys that I can use for this and make even more wine. What I like about the natural organic wines is that they still contain all the properties of the fruits and herbs, all the phytochemicals that make them so healthy.
I will also make some Wild Grape Jelly–some for ourselves and some for gifts in fancy jars.
We have truly been blessed with an abundance of wealth here on the land The Lord has given us! There is just so much here in the way of herbs, fruits, mushrooms and wild-crafting abundance!


Sheryl – Runningtrails blogs at Providence Acres Farm.

Do you have a recipe post or kitchen-related story to share on the Farm Bell blog?
See Farm Bell Blog Submissions for information, the latest blog contributor giveaway, and to submit a post.

Want to subscribe to the Farm Bell blog? Go here.
What can you enter to win this month? Click here.