One of my very favorite cold weather meals is grilled cheese and tomato soup. I know that the easy way to make grilled cheese would just be to slap a couple squares of American cheese on some bread and grill, but several years ago I found this recipe for Ultimate Grilled Cheese and have never gone back.
How to make Ultimate Grilled Cheese:
4 ounces soft cream cheese
3/4 cup mayonnaise
1 cup shredded cheddar cheese
1 cup shredded mozzarella cheese
1 teaspoon Italian seasoning
Combine cream cheese and mayonnaise. Mix in shredded cheeses and Italian seasoning.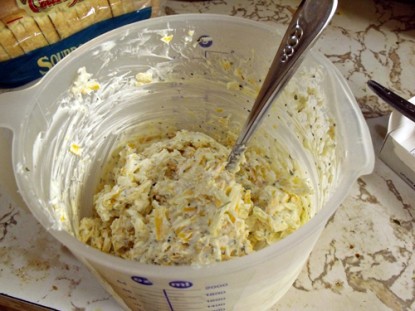 Let your imagination go here. Use any two or three kinds of cheese you like. My personal favorite is Monterrey Jack cheese and Sharp Cheddar with a dash of Parmesan cheese. If you like spicy, you could throw in some diced/minced jalapenos.
Pile on a fair amount of the cheese mixture in your bread. The amount above makes 4 or 5 sandwiches. Sometimes I add a couple of slices of ham to each sandwich, too. Really any kind of sliced meat would work–my personal favorite is just ham.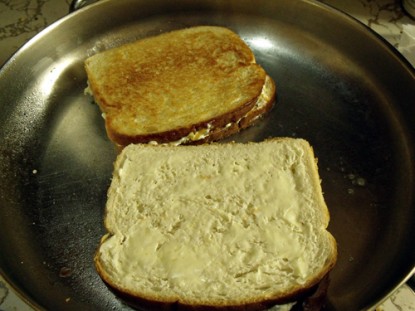 Butter each side of the bread–mix up the bread you use, too. I'm using sourdough in these pictures, but I also like sliced french bread for little sandwiches. Grill in a hot skillet for about 2 minutes on each side, or until golden brown.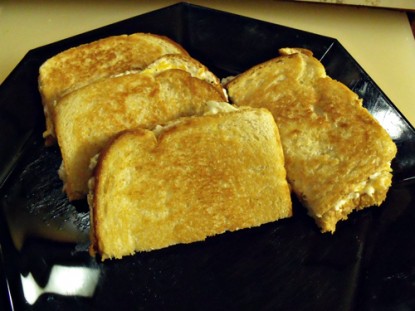 Slice in half –I was informed by my family that the correct way is to slice diagonally– and serve. Nothing better on these cooler nights than grilled cheese and tomato soup! Yum.
Get the handy print page and save this to your recipe box here:
Ultimate Grilled Cheese.

Michelle blogs at My Life in Podunk.


Do you have a recipe post or kitchen-related story to share on the Farm Bell blog?
Read information here for Farm Bell blog submissions.

Want to subscribe to the Farm Bell blog? Go here.