Say hello to Nikki from Massachusetts!
Food interests: vegetarian, vegan, and gluten-free cooking
Hobbies: cooking, film, hiking, photography, travel, writing, yoga


Q. What are your favorite things to cook?
It depends when you ask. My tastes tend to shift with the season. Right now coming out of winter, I'm still into making rustic tarts–sweet and savory. Sweet fruit tarts made from berries we picked and froze over the summer with bits of apple and citrus zest mixed in. When I'm in the mood to make a fancier tart shell, I make a lemon tart topped with raspberries. Savory ones, such as potato leek and goat cheese or squash tarts. Spiced sweet potato soup and stews, too along with vegetables cooked so their natural flavors are coaxed out, like braised cabbage tossed with butter and salt or roasted cauliflower. I also like to bake bread.
Q. How/when did you learn to cook?
I learned to cook by watching my grandmother and mother in the kitchen. My grandmother, especially, liked to bake and I sat on the counter stirring bowls of cake or cookie batter. My mother taught me how to trust my senses and cook by taste and smell. Early on, I took an interest in experimenting in the kitchen.
Q. Tell us about some of your cooking triumphs.
Tackling puff pastry made with whole wheat pastry flour. Puff pastry takes a bit of time to make and the dough needs to stay cold so the butter can be folded into the dough and help yield its signature flaky crust. I made a ginger apple tart tatin as well as vols-au-vent with the same ginger apple filling. The bottom crust of the tart tatin didn't flake as well as it should have since it soaked up the liquid from the apple filling, yet the individual pastries had a flakier texture due to their size and the fact that I filled them after they were baked.
Q. What was your most memorable cooking tragedy?
The one that comes to mind is last summer when I bought the last available batch of organic tomatoes from a local farm. I burnt a batch of organic slow-roasted tomatoes after falling asleep during their 6 to 10 hour roast in the 225F oven.
Q. Describe your kitchen. Do you love it, hate it, and why?
It's definitely not my ideal kitchen, since we don't have enough space to install a dishwasher without losing much needed storage space or a window above the sink. But, it does have charm and enough space near the kitchen table for a large bookshelf.
Q. Is your pantry organized and are your kitchen drawers tidy? We need to know.
Somewhat. It's organized chaos. I always know where things are but sometimes I have to dig to find what I'm looking for especially with ingredients I don't use as often, like the green tea powder on the spice and tea shelf.
Q. Do you have any favorite family cooking traditions?
Baking for the holidays, especially cookies, then giving them away as gifts. My grandmother always made rolled sugar cookies, frosted thumbprints, date-nut pinwheels, Hungarian kiffles, buckeyes, peanut brittle, and snowball cookies which I've started to make my own versions of.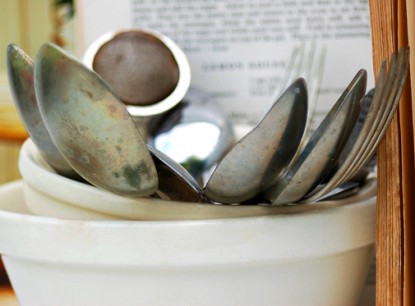 Q. What is the one gadget (or ten) you couldn't do without in your kitchen?
My Vita-mix, kitchen scale, wooden spoon, Kitchen-Aid, microplane zester, knives, bench scraper.
Q. If you had to take one food to a deserted island, what would it be?
If the island is barren, then I would say coconuts. If not, then maybe olives, cheese, or chocolate.
Q. What is your go-to comfort food?
Pasta. If there is homemade pasta in the house, then it's tagliatelle with pine nuts, brown butter, and a fried egg on top or pasta with pesto, sun-dried tomatoes, roasted red peppers, olives, and feta cheese. For simpler fare, I'll eat scrambled eggs, cheese, and toast.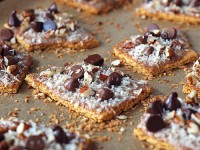 Find all of Nikki's recipes and blogs posts
here
.

Nikki blogs at art & lemons.

Do you have a recipe post or kitchen-related story to share on the Farm Bell blog? See Farm Bell Blog Submissions for information and to submit a post.

Want to subscribe to the Farm Bell blog? Go here.