I really wanted a dehydrator for Christmas and my Santa knew. Well, I admit, I made sure he knew. My Santa caught on pretty good and under the tree was MY DEHYDRATOR.
Let the fun begin!
I tried apples with a little cinnamon–sooo tasty. I tried bananas, too. Both are very good, with or without cinnamon.
Then I remembered. When I was a little girl, I lived in a house with water filled radiators for heating and the main pipe ran through my bedroom against the same wall where my bed was. In the fall, when the heat was turned on, I peeled mandarins and placed the slices by the hot pipe for a day. The heat would "dry" the skin from the mandarin parts. You'd bite through the hard skin and the taste of the mandarin sweet juice was the best.
Oh childhood memories…and so…in the dehydrator they went, all little slices of mandarin. YES! They still taste as good as I remembered.
Everything went in the dehydrator–as soon as I opened my pantry door, my eyes scanned the shelves. What to put in next? I played with the dehydrator like a little girl with her doll house.
I noticed marshmallows. Don't you just hate those sticky old marshmallows? I love the dry ones. Actually, I keep the bag open on purpose so they dehydrate naturally or pick them out of the bag of Lucky Charms cereal.
Could I speed that up? Of course I had to try. And YES, YOU CAN DEHYDRATE MARSHMALLOWS.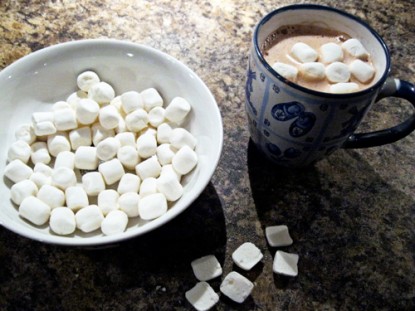 How to make Dehydrated Marshmallows:
So simple. Start with a big bag of mini marshmallows.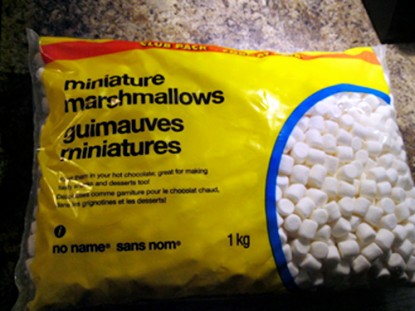 Spread them on the trays of the dehydrator. Turn the machine on and let them dry for a couple of hours.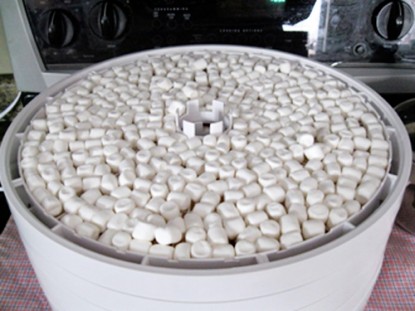 Mine takes about 4 hours. The inside is still a little bit gummy, but when cooled, they are hard.
I store them in a big jar. It looks so nice. No sticky marshmallows anymore, but tasty crunchy ones that don't shrink or wrinkle–they look perfect.


Get the handy print page and save this to your recipe box here:
Dehydrated Marshmallows.

Astrid blogs at Apple Tree Acres — English version here.

Do you have a recipe post or kitchen-related story to share on the Farm Bell blog?
Read information here for Farm Bell blog submissions.

Want to subscribe to the Farm Bell blog? Go here.