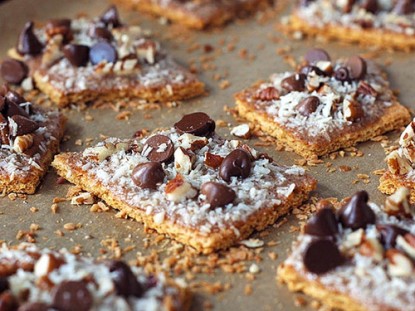 Difficulty: Easy
Servings: 24 graham squares
Ingredients
1/2 pound honey graham (about 24 squares, use homemade or pre-packaged)
1/4 cup roasted pecan butter
1/4 cup creamed coconut butter (or unsalted butter)
1/4 cup raw honey
1/2 teaspoon ground cinnamon
1/4 teaspoon ground ginger
1/2 teaspoon vanilla
1/2 cup chopped pecans
1/2 cup unsweetened shredded coconut
1/2 cup semisweet chocolate chips
Directions
To make roasted pecan butter:
Preheat oven to 350F. Line two baking trays with parchment paper.
Roast 1/4 cup of the pecans in a single layer on a baking sheet. Bake for 7 to 10 minutes, until the pecans are fragrant and a shade darker in color. Allow to cool. Place roasted pecans in a food processor; blend for 1 to 2 minutes until creamy.
To make retro grahams' filling:
Add the coconut butter or unsalted butter, honey, cinnamon, ginger, and vanilla to the roasted pecan butter and process until smooth. Spread the pecan butter mixture on graham crackers. Cover with pecans, shredded coconut, and chocolate chips.
Bake for 5 to 7 minutes, until the pecan butter and chocolate chips almost melt.
Categories: Appetizers & Snacks, Other Desserts
Submitted by: artandlemons on February 3, 2011