That's exactly what this pie is, brownies baked inside of a pie crust topped with peanut butter pie filling. I added more whipped cream to the top because I figured, hey, if I'm going to go this far I may as well go all the way.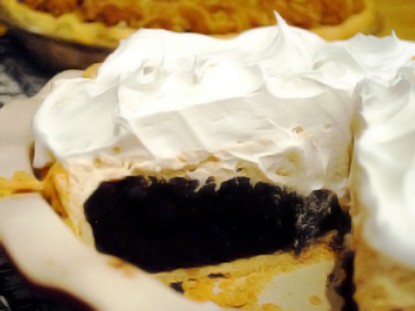 Easy. Impressive. Make ahead. Uncomplicated.
I knew when I saw this recipe that I would be making it. I knew you would love it, I knew my family would love it, I knew that I had to make it in time for Thanksgiving so if anyone needed to take a dessert somewhere they would have time to gather the ingredients. I think that if you have ever been labeled "The One That Doesn't Bake" you should make this pie and impress the socks off of your guests/hosts.
I made some modifications to the recipe I found here. I used my favorite pie crust, Suzanne's Foolproof Pie Crust and My Favorite Brownies. You can also use store bought pie crust and boxed brownies and this will be just as fabulous. Use what you are comfortable with!
Get your pie crust into the pan.
Make your brownies and pour them into your shell. If you are using my recipe, only put half in there. I did all of them and it was too much. If you are using a mix, get one that is for a 9×9 pan. Place it into a 350 degree oven for about 20 – 25 minutes, or until it is set.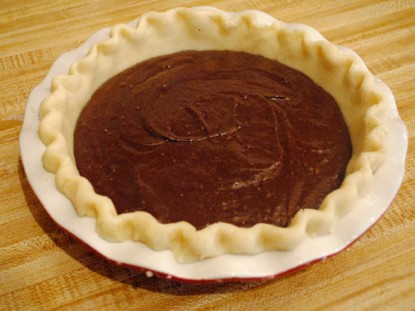 It'll look like this if you use the whole recipe. This is 9″ deep dish pie plate, so it wasn't quite full. Almost, but not quite. At this point you are going to stash it in the fridge until it is completely cool.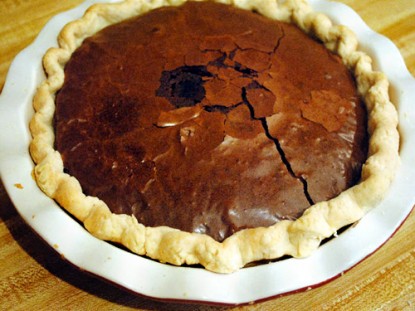 When it is cool, mix 1 (8 oz) package of cream cheese, 1/2 cup creamy peanut butter and 1 cup powdered sugar together. Mix in 1 (8 oz) tub of whipped topping that has been thawed and spread it on top of the brownies. I chose to add half of another carton of whipped topping to mine, just to make it truly spectacular!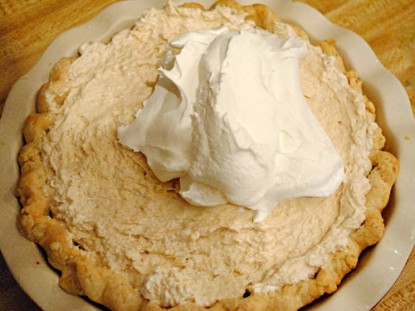 And there it is! I told you it was easy.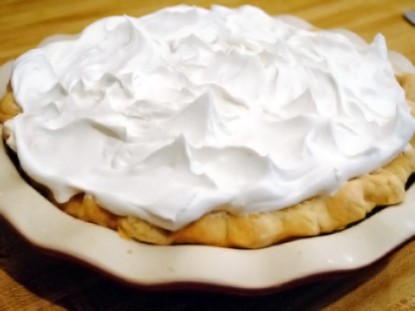 This would be a great addition to Thanksgiving or Christmas – or any get together for that matter!
Get the handy print page and save this to your recipe box here:
Mile High Peanut Butter Pie.

Charley blogs at Cooke's Frontier.

Interested in contributing a guest post to the Farm Bell blog? Read information here for Farm Bell blog submissions.

Want to subscribe to the Farm Bell blog? Go here.