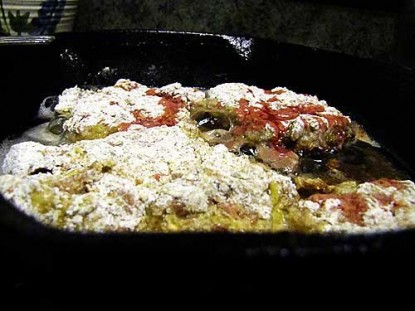 Difficulty: Easy
Servings: varies
Prep Time:
15 minutes
Cook Time:
10 minutes per batch
Ingredients
3/4 cup all-purpose  flour
1 teaspoon salt
1 teaspoon black pepper
1 teaspoon cayenne pepper
2 eggs
2 tablespoons water
1 cup baking mix
1 to 2 pounds steak, cut into dinner portions
oil for frying
Directions
Heat oil (preferably in an iron skillet)–just enough to fill the bottom of the skillet. (You're not deep-frying here.) Combine flour, salt, and pepper in one bowl. In another bowl, whisk the eggs and water. In a third bowl, place the baking mix. Dip the steaks in that order–1) flour, salt, and pepper, 2) eggs and water, 3) baking mix. Fry the steaks about five minutes per side on medium-high heat, or till done. If you're going through several batches in the skillet, add more oil as needed. You can keep the finished steaks warm in the oven.
For the gravy, try White Sauce Butter Balls.
Categories: Beef, Kid-Friendly, Main Dish
Submitted by: suzanne-mcminn on November 19, 2010