The Farm Bell Recipes blog is your community blog! It's a place for fresh voices and new (and old) faces. A place where the community shares with the community.
Looking back on our first year, it just makes me so proud to see how many members put themselves out there and shared with us their ideas, memories, recipes and thoughts.
Posts on the Farm Bell blog may be recipes, cooking memories, kitchen chat, or just about anything and everything food-related. A trip down the pages of an old recipe book. A list of favorite old-fashioned kitchen gadgets. An ode to your favorite fruit or vegetable. Ideas for entertaining. Memories of learning to can with your grandmother. Your favorite ways to use up all that zucchini in the summer, or a sentimental set of dishes.
If it's about cooking and the kitchen and food, it belongs on the Farm Bell blog!
If you do include a recipe, be sure to tell us something about the recipe to make a full post of it (or just submit it through the Submit Recipes link rather than the blog post link).
As Farm Bell has been growing through the past year, the process has been streamlined to make submitting a blog post to Farm Bell Recipes easier–for both you and me! Need help? Let me show you!


Step #1–Go to the Farm Bell Blog Submissions page



You must be registered and logged in to Farm Bell Recipes to submit a post.


Step #2–You & Your Site

Your email address, where you can be contacted if there is a question with the post, is required.
If you have a website or blog of your own, you're welcome to include your link. I link your posts every day to my Facebook and Twitter.
Your posts also appear daily on the opening slide-show on the main page of Chickens in the Road, and all of your names and links appear in the monthly CITR newsletter. The list of previous month's FBR contributors is also posted on the FBR sidebar in the Recent Contributors list (with your links) throughout the month. (This sidebar list is changed out once a month, at the end of the month.)
I do everything I can to promote you and your sites in appreciation of your wonderful posts for FBR.


Step #3–Post Title and Post Body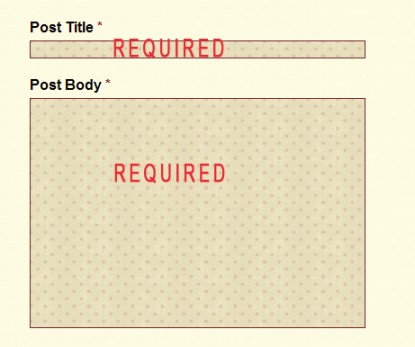 Obviously, both are required.
Word limit is flexible, but 500 words is a good guide. Posts including photographs are preferred.
If you're submitting a post that you've already posted on your own site, this couldn't be easier! Open up your post in the post editor on your site, copy the contents, and paste it right here into the Post Body.


Step #4–Photos

Upload your photos (10 max) straight from your computer. In the blog post itself, note where you'd like each photo to appear–with either the name of the photo you're uploading (i.e. IMG_2011.jpg) or the order which they're uploaded (i.e. PIC 1, PIC 2, etc).
There is a size limit!!! The system will not load large sized photos, it will just sit there and spin like it wants to do something. Please resize your photos first before trying to upload. Photographs 500 pixels in width, 375 pixels in height and 72 dpi work best–photos actually need to be this size to be loaded in the slideshow on the CITR main page. If you don't have an image editor, here are couple free options–GIMP (operates much like Photoshop) or PicResize (an online editor that resizes and crops to your specifications…set the width and height pixels).


Step #5–Photo Attribution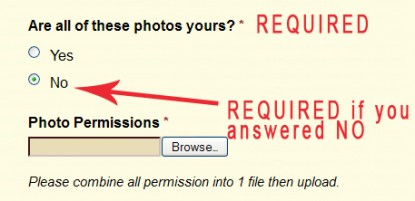 If all of the photos you're uploading are yours, choose Yes. If they're not, choose No.
If the photos aren't yours, you must have permission to use them on Farm Bell Recipes! When you choose No, another field will pop up asking for you to upload a file. Simply copy/paste all of your permissions into 1 file (doc, pdf, NOT an image file) on your computer and upload it here.
Also, if the photo isn't yours, in the Post Body where you've noted where the photo will appear, cite the attribution (who gets credit for the photo).


Step #6–Review!


This is very important! Make sure you have all of the required fields completed before you hit the magic button–Contribute Your Post! If you've missed any required information, you'll receive an error and all of those photos (and photo attribution file if used) will disappear–and your post will be filed without photos.


Thank You!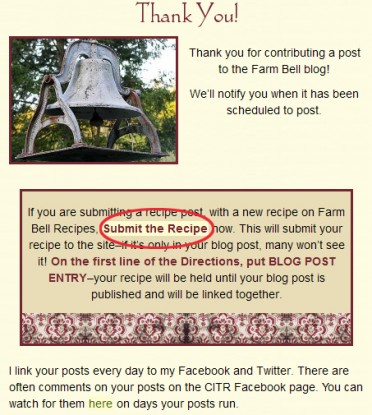 There! 6 easy steps is all it takes to share your kitchen stories with the rest of our community! Well, there's 1 more if you've just submitted a blog post that has a new recipe to FBR. Submit the Recipe! There's a link on the Thank You page. As you've noticed, there's always a link at the bottom of a blog post (that highlights a recipe) pointing you to the recipe itself where you can print it or save it to your recipe box. THAT is the actual recipe itself that has been uploaded through Submit Recipes.


Thank you, every one of you, that has contributed to the Farm Bell blog this past year. I hope to hear from many more of you with your kitchen or cooking thoughts, stories and ideas! Submit a blog post now!
See all the blog posts in Using Farm Bell Recipes.
Do you have a recipe post or kitchen-related story to share on the Farm Bell blog? See Farm Bell Blog Submissions for information and to submit a post.

Want to subscribe to the Farm Bell blog? Go here.