You're proudly bringing your magnificent turkey to the table. It's a precarious balancing act, but it looks like you'll make it. Guests are craning their necks to watch. Suddenly, behind you, you hear crash, splat, tinkle from the kitchen. A chorus of kitchen helpers call out, "Dearie, we need some paper toweling. Where's the broom? Do you have a mop?"
If your guests are family or frequent visitors, they may be able to step in and help. But if your guests are unfamiliar with your kitchen, you'll have to deliver the turkey and run back to the kitchen and miss all your well-earned ooohs and aaahs.
However, you can cook your turkey and enjoy it too if you make a small guest-friendly area in your kitchen. Use a bright table cloth or a swath of wrapping paper to partition part of the kitchen counter, island, or table for this purpose. Collect things that might be needed during and after dinner. Use a basket for the larger items to help save space. Here are some suggestions: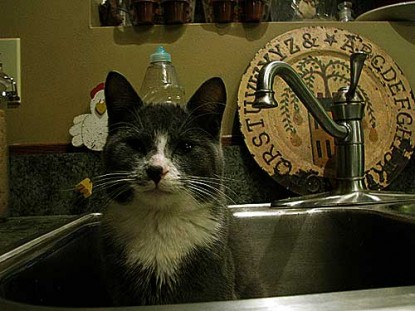 Suzanne's Little helping himself in the kitchen

2 rolls paper towels — it's easier to bring the roll to the spill, rather than having to guess how much to tear off the paper towel holder.
Corkscrews — if there's wine to serve. People have preferences among corkscrews so put out as many different kinds as you have. I'll be glad when all wines are screw top.
One or two extra place settings w/flatware — in case of surprise guest(s). Extra settings can be quickly added without the disruption of digging in china cabinets, scuttling in silver ware drawer, etc.
Every last serving spoon in the house — you're always short at least one.
Dessert dishes, cake server, ice cream scoop, etc. at the ready — well, of course there's dessert but there was no room for the dishes on the table earlier.
A selection of tea and a teapot — so tea drinkers are not left out when coffee is served.
Assorted take-away containers with lids — for those leftovers your guests will be divvying up. You don't want someone taking extra gravy home in a vintage Atlas jar, do you?
"No China Please" sign for the dishwasher — if your grammy's china is not dishwasher proof.
Designate recycling bin/trash bin — not everyone will know the green bin is for recycling. If you keep the recycling in the garage, make a small sign with arrow on the doorway to the garage.
This scheme signals to guests that their help is welcome and lets them help without you needing to be in the kitchen every single minute!

Interested in contributing a guest post to the Farm Bell blog? Read information here for Farm Bell blog submissions.

Want to subscribe to the Farm Bell blog? Go here.