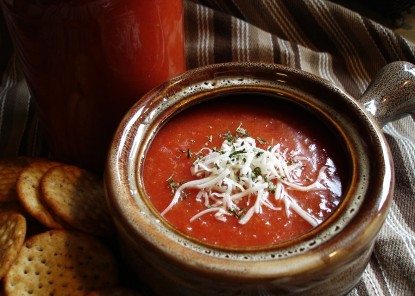 Difficulty: Easy
Servings: 12 quarts or 24 pints
Ingredients
3 gallons homemade tomato juice (acidified)
(this is about 22 to 25 lbs. tomatoes made into juice)
Finely chop in food processor, then measure:
2 cups green peppers
2 cups celery
2 cups onion
1 cup sugar
3 Tbsp. salt
½ tsp. white pepper
Clearjel
Directions
Mix tomato juice and chopped vegetables together in a large pot. Bring to a boil, reduce heat and simmer until veggie bits are tender.
Add sugar, salt & pepper and bring back to a boil. Add 1 cup Clearjel well mixed with 1 cup cool water, stirring as you add.
Simmer a few minutes, stirring all the while.
Add 8 ounces butter and stir until it's melted and well incorporated.
Process in boiling water bath – 40 minutes for pints and 45 for quarts.
Categories: Boiling Water Bath, BWB Tomatoes & Combos, BWB Vegetables, Low-Sodium, Preserving, Soups & Stews
Submitted by: wvhomecanner on April 22, 2010