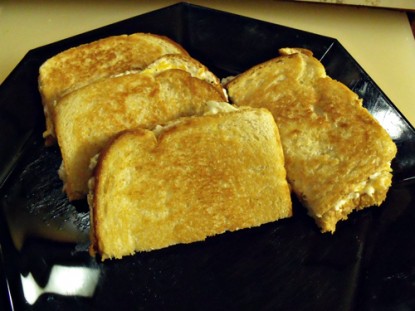 Difficulty: Easy
Servings: 4 -5 sandwiches
Prep Time:
5 min
Cook Time:
4 - 5 min
Ingredients
4 ounces soft cream cheese
3/4 cup mayonnaise
1 cup shredded cheddar cheese*
1 cup shredded mozzarella cheese*
1 teaspoon Italian seasoning
* Let your imagination go here. Use any two or three kinds of cheese you like. My personal favorite is Monterrey Jack cheese and Sharp Cheddar with a dash of Parmesan cheese. If you like spicy, you could throw in some diced/minced jalapenos.
Directions
Combine cream cheese and mayonnaise. Mix in shredded cheeses and Italian seasoning.
Pile on a fair amount of the cheese mixture in your bread. (Sometimes I add a couple of slices of ham to each sandwich, too. Really any kind of sliced meat would work–my personal favorite is just ham.)
Butter each side of the bread–mix up the bread you use too. Grill in a hot skillet for about 2 minutes on each side, or until golden brown.
Categories: Kid-Friendly, Sandwiches
Tags: comfort-food
Submitted by: adkramer on January 3, 2011