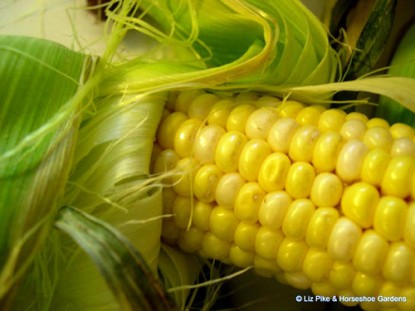 I love LOVE LOVE corn-on-the-cob.  With lots of butter, fresh cracked black pepper, and a little salt (well, a lot of salt), I can make a meal. Juice running down my elbows, slurping the cobs, it's a little summertime heaven on earth. But. I get tired of corn on the cob. Sometimes I get the itch to jazz things up, and when I do, these are my go-to recipes. One is a make-ahead recipe, needing to sit overnight in the fridge, and the other is more flexible. It can be made ahead or just before serving.
The first recipe, Corn and Black Bean Salad, makes use of a wide variety of garden veggies, and the dressing has just enough updated flavor to define the freshness of the salad. Easy substitutions can be made if a veggie is missing from your market. It is best made to sit overnight to allow the flavors to meld and develop.
The second recipe, Corn, Radish and Parsley Salad uses an oft-unsung hero of the veggie world. When nothing else will grow, the ever faithful radish pokes it's bright red bottom up out of the soil eschewing heat, drought or light frost. Just consider it the post man of the home garden!  This salad can be made overnight, or just before serving.
Quick tips for those unfamiliar with working with fresh corn:
If you're like me and hate to deal with corn silks, try nuking the un-husked ears.  This builds up steam below the husk to loosen the silks and enabling them to slip right off the kernels. Depending on the size of the cob, and the strength of your microwave, 6 ears at 3 minutes is just about right.

The next issue is getting the kernels off the cob. I use an old trick that's been around forever. Set the ear in the hole in a Bundt pan, and run a knife down the cob, slicing off the kernels. Once the kernels are off, run the back of the knife down the cob to milk the ear. The kernels and corn milk conveniently fall into the pan below.

The last tip is measuring corn. A medium, well-filled out cob yields about 3/4 of a cup of kernels.
Now to the recipes!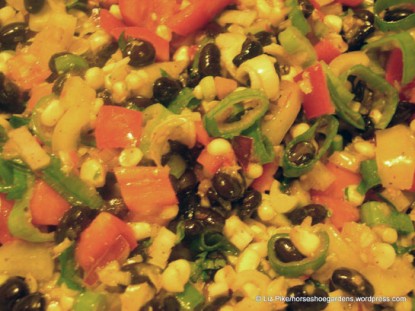 How to make Corn and Black Bean Salad:
Serves 4-6, refrigerate overnight
1 1/4 cup fresh corn kernels (about 2 ears)
1 15 oz. can of black beans, drained and rinsed
1 tomato, medium chopped
1 red bell pepper, finely chopped
1/2 cup green onions, sliced
1/2 cup chopped red onion
1 clove garlic, minced
1 jalapeno, seeded and finely chopped (leave in seeds for more heat to the dressing)
Dressing:
3/4 cup Italian salad dressing (or use your favorite homemade recipe!)
3/4 teaspoon hot pepper sauce
1/2 teaspoon chili powder
1 tablespoon lime juice
1 tablespoon fresh cilantro, chopped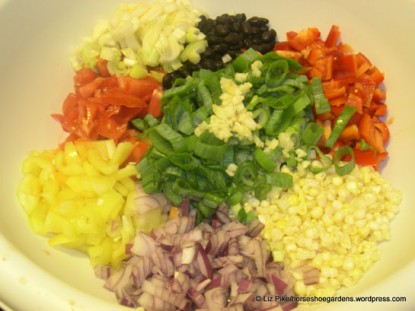 Combine all the vegetables into a large refrigerator bowl with a lid, or a large zippered plastic bag.
In a jar with a tight fitting lid, combine all the dressing ingredients. Shake until well mixed.
Pour the dressing over the corn mixture. Close lid and toss all together. Refrigerate overnight to meld flavors.
This can be served cold, but I prefer it slightly warmer than chilled and a little cooler than room temperature. Not easy to please am I? ;))


Get the handy print page and save this to your recipe box here:
Fresh Corn and Black Bean Salad.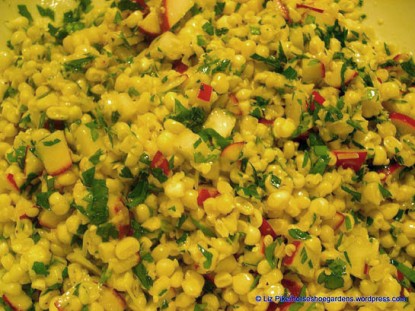 How to make Corn, Radish, and Parsley Salad:
Serves 8
4 cups fresh corn kernels (about 6 ears)
1 cup radishes, sliced
1/4 cup minced fresh parsley
Dressing:
1/4 cup olive oil
2 tablespoons lemon juice
2 tablespoons minced fresh basil
2 tablespoons Parmesan cheese, grated
1 clove garlic, minced
salt and pepper to taste
Toss everything together. Season with salt and pepper. Serve chilled or at room temperature.
Enjoy!


Get the handy print page and save this to your recipe box here:
Fresh Corn, Radish, and Parsley Salad.
Liz Pike blogs at Horseshoe Gardens.

Do you have a recipe post or kitchen-related story to share on the Farm Bell blog?
See Farm Bell Blog Submissions for information, the latest blog contributor giveaway, and to submit a post.

Want to subscribe to the Farm Bell blog? Go here.
What can you enter to win this month? Click here.