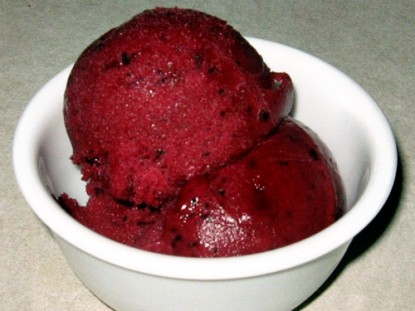 Frozen. Fruity. Fresh.
I just want you all to know that this recipe is so simple, so foolproof, and so delish that if you don't make it…well…you'll be a bad parent, or kitties will cry, or something like that.
How to make Fresh Blueberry Sherbet:
3 cups fresh blueberries
2 cups granulated sugar
1 cup water
Combine it all in a saucepan and bring to a quick boil, stirring once or twice.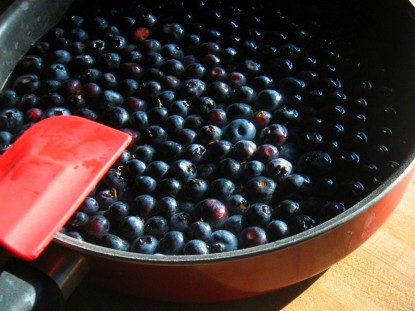 Once it reaches a boil, reduce heat to a low simmer for fifteen minutes.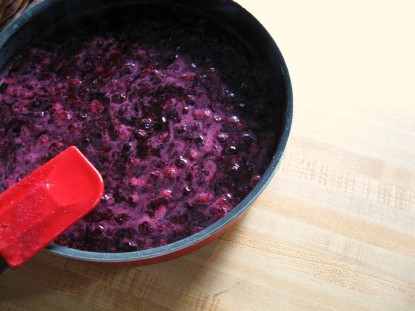 Remove from heat after time has elapsed and allow mixture to completely cool.
At this point you can strain it if you want to, for smoother sherbet, or you can be like me and not own a fine mesh strainer (lets not get into all the common items my kitchen lacks) so you (I) leave the bits of fruit and skin in the mix.
Put it into an ice cream maker and turn it into sherbet. I'd suggest following the directions that come with your machine, but the directions with the machine I used said it took 2 hours for sherbet and this puppy was done in 30 minutes. So, just watch it and use your best judgement.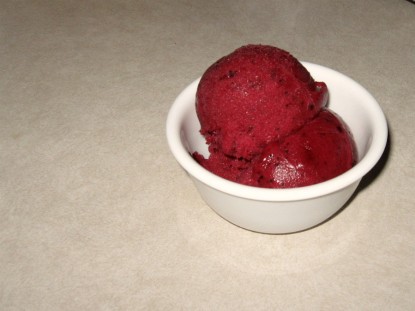 Store in an airtight container in the freezer till ready to use.


Get the handy print page and save this to your recipe box here:
Fresh Blueberry Sherbet.
Rachel blogs at The Henway.

Do you have a recipe post or kitchen-related story to share on the Farm Bell blog?
See Farm Bell Blog Submissions for information, the latest blog contributor giveaway, and to submit a post.

Want to subscribe to the Farm Bell blog? Go here.
What can you enter to win this month? Click here.