Do you have a recipe box? I've always wanted a simple wooden box that was divided into easy to find sections and recipes.
But, this is what I have.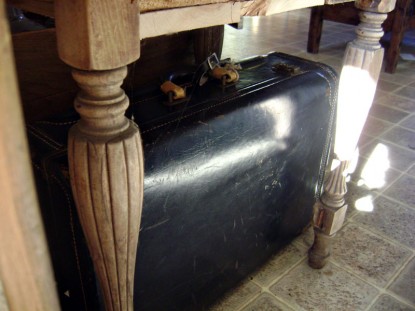 Do you see that old and rescued blue leather 22 x 14 x 7-inch suitcase? Yes, that's my recipe box. And it has a special spot in my kitchen — always right there when I need a special recipe.
It's chucked full of unorganized loose papers.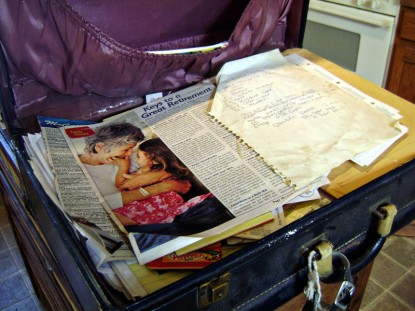 It's actually like an unorganized scrapbook. 18 years ago, in my first apartment out of college, I started with this old 3-ring binder. It's still in that suitcase. That 3 ring binder did me well for quite a few years — until I actually purchased a house 11 years ago and had more heart to cook, and lost that binder in the move!
Even with the internet and almost any recipe you want at your fingertips, I find myself going through My Recipe Box quite often. I know what the paper looks like of that special recipe.
Like this one from high school home ec class — that's Mrs. Jacobson's handwriting.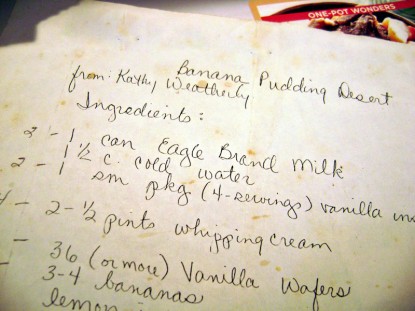 Or this Wedding Cake Icing recipe — that's the recipe I used when Mom and I made my wedding cake 15 years ago.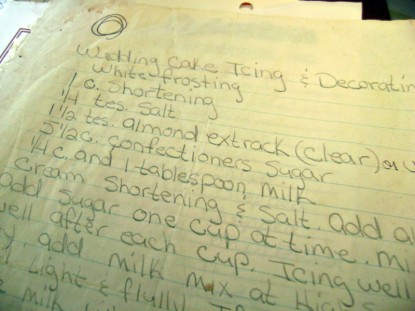 This is my grandmother's molasses cookie recipe — the one I copied for Dad when he moved out to his own apartment when I was in high school. I helped him learn to cook and bake those first few years. FYI, this recipe make a huge batch of molasses cookies and should be hand stirred — we burnt up a hand mixer our first try at that one!
Even in the depths of the recipe box is this postcard from my younger brother in 1994 when he was in the Navy on the USS Cape Cod and arriving in Tokyo. For some reason I put it in the 3-ring binder and it will forever stay in the recipe box.
There's even a recipe in here for Mole Out — I remember copying that from a TV show back in the mid-90's.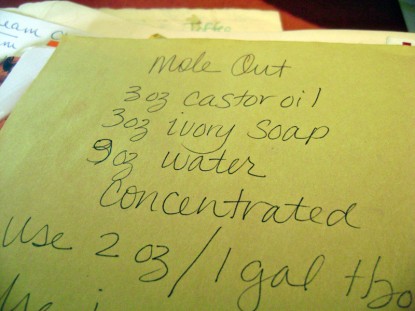 This one comes from college days and has traveled well. This was from my high school bestie, LJ. She went to Michigan Tech — they had to make their own, you probably couldn't buy Kahlua way up there!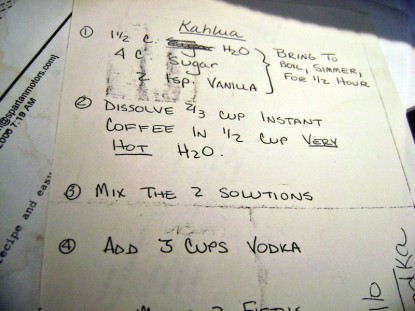 Ah ha! Here's the cookbook and instruction booklet for the Onion Machine — I don't have the machine, but I still have the cookbook.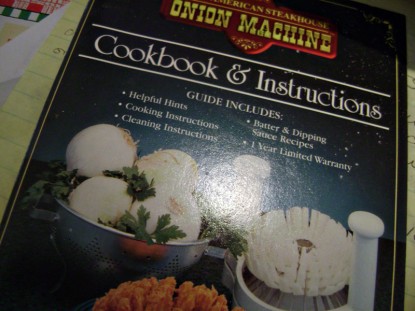 And my Thanksgiving Dinner Menu file. It has the menu and any loose recipes I used for every year I've hosted Thanksgiving Dinner — it will be 10 years this year.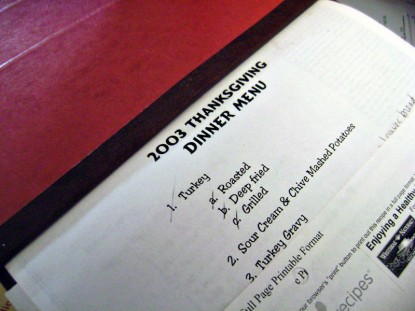 You can see I at one time started to work on that nice organized recipe box.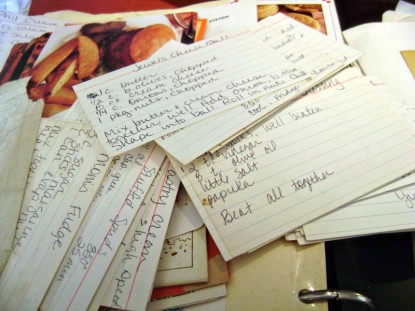 But it was just too much! I think I will continue to just enjoy my memories every time I open this recipe box in search of that special recipe.

Cindy blogs at Chippewa Creek ~ Our Life Simplified.

Interested in contributing a guest post to the Farm Bell blog? Read information here for Farm Bell blog submissions.

Want to subscribe to the Farm Bell blog? Go here.