I've been thinking about ranch dressing for awhile. Yes, I actually think about dressing. Don't you?????? Please tell me that you do.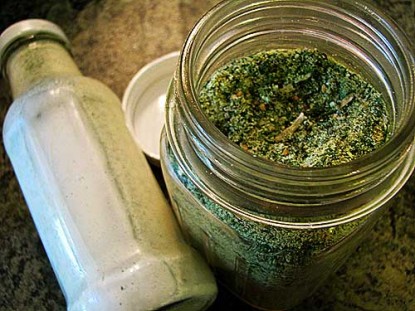 Ranch is our favorite dressing here, but those mixes in the store just don't appeal to me, so I was happy to find one posted here by CindyP and had to try it out! Verdict: I love it. In fact, I think it's better than store-bought dressing, so no more of THAT.
How to make Homemade Ranch Dressing Mix:
15 saltine crackers
2 cups dry minced parsley flakes
1/2 cup dry minced onion
2 tablespoons dry dillweed
1/4 cup onion salt
1/4 cup garlic salt
1/4 cup onion powder
1/4 cup garlic powder
*Note: You could replace the salts with powders to reduce sodium.
Put crackers through blender on high speed until powdered.
The saltines are there for thickening. Saltines are the perfect simple, basic cracker, so I'm not arguing with that on the homemade principle. I love saltines.
Add parsley, minced onions, and dillweed. I didn't blend after this. Well, I tried, but my blender didn't like that, so I just tossed it all in a bowl–onion salt, garlic salt, onion powder, garlic powder, and all–and mixed it with a spoon.

Place mix in a container with a tight-fitting lid. This fits perfectly in a pint jar.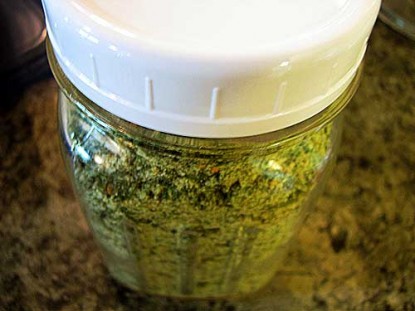 You can store this dry mix at room temperature for one year.
To make salad dressing:
1 tablespoon mix
1 cup mayonnaise
1 cup buttermilk
Makes 1 pint.
For a handy print page, see the original posted recipe here.
I am loving this. It's so easy to change up when you need to–add bacon bits. Add more garlic. Add grated cheese. Use sour cream or cream cheese for a thicker version. Make as much or little as you want/need at a time. I use an old chili sauce bottle and use 2 teaspoons mix, 2/3 cup buttermilk, and 2/3 cup milk to fit.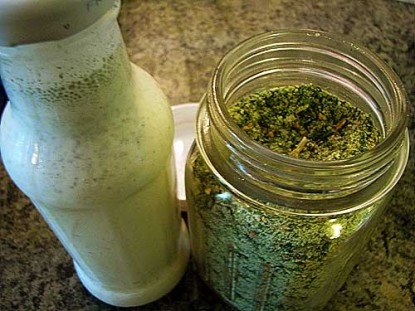 I've also used this as a sort of "fake" quick Alfredo sauce. It's wonderful!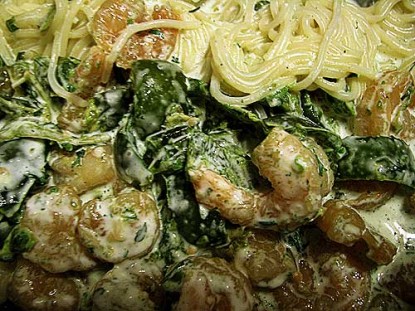 I'm thrilled with this recipe! Do you make your own dressings? If you have dressing recipes, post 'em! I'd love to see them! I'm so over store-bought dressings.