the Exploding Pyrex? No? Well, read on.
Pyrex®
Some viral emails describe spontaneous 'explosions' of Pyrex® bakeware. The consumer advocate website, ConsumerAffairs.com, claims to have culled more than 300 'exploding' Pyrex stories from Internet users around the country.
Consumer Reports conducted extensive tests with Pyrex and Anchor Hocking glass bakeware in its own testing laboratory. (Consumer Reports publishes the findings of the Consumers Union, a nonprofit organization that works to empower consumers.)
©Consumer Reports
In one test, researchers heated a sand-filled Pyrex baker in a 450°F oven. When they took the bakeware from the oven, and placed on a cool, dry surface, it 'flew apart.' You can view video of additional Consumer Reports tests and results at its website. Based on their tests, Consumer Reports is asking the Consumer Products Safety Commission to look into the breakage issue.
Here is some basic information regarding Pyrex bakeware:
Corning began manufacturing heat-resistant borosilicate glass in the early 1900s. This glass withstood extreme changes in temperature, known as thermal shock. Railroads used the nonexpanding glass, called Nonex, to prevent the glass lanterns on rail signals from shattering.
After Bessie Littleton, wife of Corning physicist Jesse Littleton, complained that her casserole dishes cracked in the oven, Mr. Littleton brought home jars made of Nonex. Using the jars, Bessie produced round, evenly-baked, golden sponge cakes. This led Corning to file a patent for borosilicate glass bakeware in 1915. Pie plates were the first borosilicate bakeware, prompting the name Pyrex.)
The company began to change the composition of its glass bakeware in the 1980s.
Currently, Pyrex bakeware made for use in the United States is made of tempered soda-lime glass. Soda-lime glass is less likely to break when dropped or bumped. Even though it is tempered, soda-lime glass does not withstand thermal shock as well as borosilicate glass.
Pyrex bakeware made and sold in Europe continues to be made of borosilicate glass.
Consumer Reports tests indicate that new borosilicate glass withstands thermal shock better than soda-lime glass, but seems to have an upper temperature limit of 500°F. Older borosilicate glass, in good condition, seems to withstand thermal shock even at 500°F.
Soda-lime glass is easier to melt, results in fewer deformities, and produces fewer emissions than borosilicate glass. Soda-lime furnaces last longer and need less energy to run.
There are hundreds of reported cases of Pyrex bakeware shattering. There are over 370 million pieces of Pyrex in use in American households.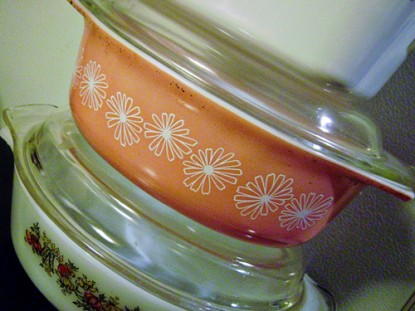 I have some of the older, borosilicate Pyrex in good condition, so I feel relatively safe using it. After all, I've used it for over 35 years. However, just for a lark, I read the safety guidelines that accompany new Pyrex bakeware. Holy Cow! There are several things I do that are no-no's. Some of the guidelines are even counter-intuitive. So, here are today's Pyrex safety highlights:
AVOID severe hot to cold temperature changes.
DO NOT add liquid to hot glassware.
DO NOT place hot glassware on a wet or cool surface, directly on countertop or metal surface, on a stove burner or metal trivet, on wet cloth or wet potholder, or in sink.
DO NOT handle hot glassware—including bakeware with silicone gripping surfaces—with a wet cloth or wet potholder.
DO NOT use with a direct flame including on a stove top, under a broiler, on a grill, or in a toaster oven.
DO NOT use glassware to microwave popcorn or foods wrapped in special browning wrappers.
DO NOT heat empty or nearly empty glassware in microwave, or overheat oil or butter in the microwave.
DO NOT use or repair any glassware that is chipped, cracked, or severely scratched.
DO NOT take dishes directly from the freezer to the oven or vice versa.
ALWAYS preheat oven before inserting glassware.
ALWAYS add liquid to cover the bottom of the dish before cooking foods that may release liquid.
You can find complete safety warnings at the Pyrex website, here.
Do you have a recipe post or kitchen-related story to share on the Farm Bell blog?
Read information here for Farm Bell blog submissions.

Want to subscribe to the Farm Bell blog? Go here.