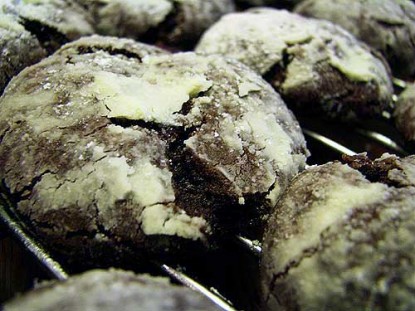 Difficulty: Easy
Servings: 3 dozen
Prep Time:
15 minutes
Cook Time:
10 minutes
Ingredients
12 ounces semisweet chocolate chips
6 tablespoons butter, softened
1 cup sugar
2 eggs
1 1/2 teaspoons vanilla
1/4 teaspoon mint extract
1 1/2 cups all-purpose flour
1 1/2 teaspoons baking powder
1/4 teaspoon salt
Directions
Melt chocolate over low heat in a small saucepan. Meanwhile, beat butter with an electric mixer. Add sugar; beat again. Pour in melted chocolate. Add eggs, vanilla, and mint. Beat the chocolate mixture into the butter/sugar mixture. Add flour, baking powder, and salt. Combine with a spoon. Wrap cookie dough and place in the fridge for about half an hour.
Preheat oven to 350-degrees. Shape dough into 1-inch balls. Roll in powdered sugar and place about two inches apart on a lightly greased cookie sheet. Bake at 350-degrees for approximately 10 minutes, until tops are cracked.
Categories: Cookies & Bars, Desserts, Entertaining, Holiday
Tags: Christmas Cookie
Submitted by: suzanne-mcminn on December 10, 2010