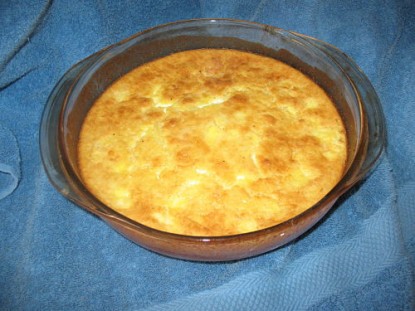 Difficulty: Easy
Servings: 6-8
Prep Time:
5 minutes
Cook Time:
30-60 minutes
Ingredients
1- 17oz can whole corn (do not drain)
1- 17oz can creamed corn
2 eggs
1 stick of butter/margarine-melted
1 cup (8oz) sour cream
1 box Jiffy corn bread mix or other corn bread
mix of similar size
Directions
Mix all ingredients together and pour into a lightly buttered 2-3 quart casserole dish. Bake at 350 degrees for 30-60 minutes or until top is golden brown. (Mine usually takes between 45-60 minutes–just be sure to allow ample time to bake your first time making the recipe, so you can judge your own bake time).
Categories: Vegetables
Submitted by: blueberrylu on May 3, 2010