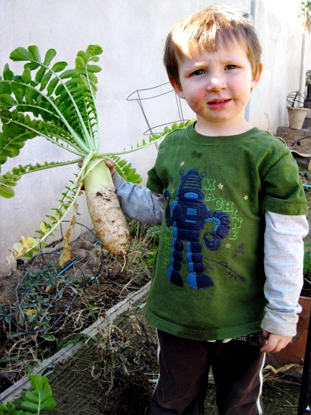 Do you ever plant stuff in the garden and totally forget what you planted?
Happens to me, too, despite my overly-complicated Excel-spreadsheet garden map. It certainly makes for some exciting meals!
I actually had to look this one up online–it is a daikon radish. What was I thinking when I planted those? No one in the house will eat radishes except me, and I have to choke them down.
These however, are nothing like the icky little red radishes. They were awesome. How cool is it to grow something seriously exotic and super tasty? Right.
A week later I realized my grocery store sells these.
DOH! Oh, well.
This was a simple recipe. Sometimes the simplest ones are the best.
I peeled and chopped the radishes. Then I chopped up some onions, mixed them with the radishes, drizzled everything with hot-pepper olive oil, and sprinkled everything with salt and pepper.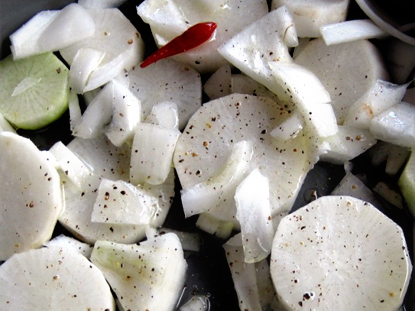 This looks boring. I need more color. Back to the garden for some Atomic Red carrots!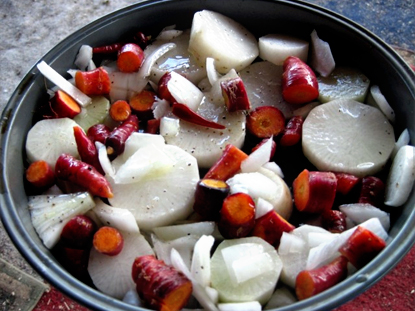 Muuuuch better.
Then I broiled the whole thing for 10-15 minutes.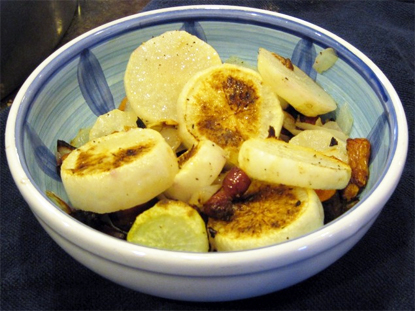 I can't describe how great this dish was. We were all sick and couldn't taste much. The daikon radishes weren't spicy/peppery like the little red radishes are. They were more turnip-spicy, without the dirt flavor.
In addition, the olive oil I used was from the very bottom of the bottle, where all the Thai Dragon chili peppers were sitting. You can see one of the escaped peppers in the picture above. The oil added a hefty kick which resulted in 8 out of 10 sinuses being cleared!
Go radish power!



Larissa blogs at The Henway.

Do you have a recipe post or kitchen-related story to share on the Farm Bell blog?
Read information here for Farm Bell blog submissions.

Want to subscribe to the Farm Bell blog? Go here.