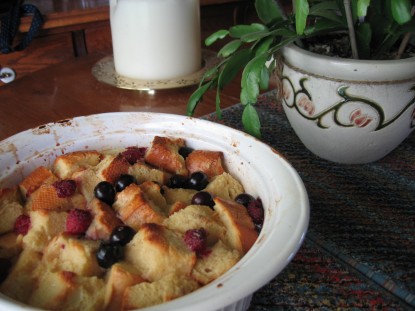 Difficulty: Easy
Servings: 8
Prep Time:
5 minutes
Cook Time:
40-45 minutes
Ingredients
4 cups torn white bread (5-6 slices)
1 1/2 cups fresh or frozen thawed berries
(any berries taste good, I have also used
the frozen triple berry kind from your
grocers freezer section with success)
1 1/2 cup milk
2 tsp vanilla
4 eggs
1/2 cup sugar
Directions
Grease 8 inch square glass pan or spray with non-stick spray. Toss together torn bread and berries and place into greased pan. In a bowl combine the rest of the ingredients and pour the egg/milk mixture over top of the bread/berries pressing down bread to make sure it is saturated. Bake at 350 degrees for 40-45 minutes until the center is puffed up and the top is golden brown. Top with vanilla ice cream or whipped cream if desired.
Categories: Breads, Desserts, Fruits, Old-Fashioned, Other Desserts
Tags: easy
Submitted by: blueberrylu on May 3, 2010