Say HELLO to Kelly!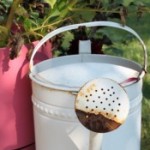 Q. What are your favorite things to cook?
A. I enjoy cooking a variety of things but if I was only allowed one category it would be baking. I love making bread and dessert.
Q. How/when did you learn to cook?
A. I learned to cook by my mom and grandmother's side. When I was really young, my grandmother babysat me while mom worked. I learned to make scrambled eggs and butter bread with King Syrup when I was 5. My grandmother said if you learn to cook, you'll be ok. She was right.
Q. Tell us about some of your cooking triumphs.
A. For the past 5 Thanksgivings, since I've been married to my dear husband, we host Thanksgiving dinner at our house the Friday after Thanksgiving. Last year we had 45 people for dinner. The year before we had 52 people for dinner. People who don't have family or any place to spend the holidays seem to end up at our house. Its complete chaos but I love it. Last year I cooked three 25 pound turkeys. There were very few leftovers but I made a huge pot of turkey stock the next day. Having family and friends over for meals is something I treasure. I don't mind cooking and am able to do it. It's a real treat and lots of fun.
Q. What was your most memorable cooking tragedy?
A. The year I got my first microwave I decided to make lasagna for several friends that were coming to dinner. Don't cook anything in the microwave for 90 minutes. I made the most disgusting gelatinous mass of goo imaginable. We ended up having pizza. Let's just say they have never let me forget the lasagna disaster.
Q. Describe your kitchen. Do you love it, hate it, and why?
A. I love my kitchen. Fifteen years ago we remodeled our house and I designed my kitchen. I argued with the builder over many of the features but stuck to my guns. I have an island that can seat 5 people. The builder told me it was a stupid feature. I have never regretted having it for one second. During canning season it's constantly in use, often covered with jars and produce. We also do most of our family dinners buffet style, there are 14 in the immediate family, and the island is a wonderful place to put the food.
Q. Is your pantry organized and are your kitchen drawers tidy? We need to know.
A. After reading Suzanne's post about cleaning her drawers I felt driven to work on mine. I'm working on the pantry. I've cleaned off the top two shelves!!! Some of my drawers are very neat and tidy. Some of the drawers need a little help. By the way, I don't normally talk about my drawers with strangers.
Q. Do you have any favorite family cooking traditions?
A. Growing up we didn't have much but we got together every Sunday at my grandparents house for dinner. My grandmother would feed her 6 kids and their spouses plus 23 grandchildren a giant pot of chicken and dumplings using one chicken. It was hearty and very filling and if you managed to get a piece of chicken you were lucky. The table was a place of laughter and learning. Holidays were ridiculous. We celebrated more with food than presents. A few weeks before Christmas all the kids and grandkids would get together at my grandmother's and make Christmas cookies. She made the best sand tarts imaginable. It was loud, messy and tons of fun. My cousins and I still talk about cooking at Grammy's. I've got my first grandbaby now and I hope she grows up feeling like that about her family.
Q. What is the one gadget (or ten) you couldn't do without in your kitchen?
A. Am I really limited to 10? My favorite new gadgets are definitely my steam juicer and pressure canner. Oh, and my Excalibur dehydrators. I don't know how I managed without them. I love my v-slicer for cutting all the food that goes in my dehydrator. I love my Rada knives, my Kitchen aid mixer, food processor and everything else in my overflowing kitchen drawers.
Q. If you had to take one food to a deserted island, what would it be?
A. There really is only one correct answer here, chocolate. I grew up 20 minutes from the Hershey chocolate factory. I'm an addict.
Q. What is your go-to comfort food?
A. You mean beside chocolate? Homemade bread with butter and jelly.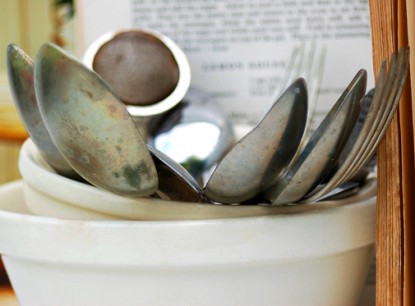 Some of Kelly's recipes on Farm Bell Recipes include:
Easy, No-Crust Quiche
Roast Sticky Chicken
Butternut Squash Bisque
Black Magic Cake
Red Velvet Whoopie Pies
Find all of Kelly's recipes here.

You can also find Kelly at Yahoo's Canning2.

Interested in contributing a guest post to the Farm Bell blog? Read information here for Farm Bell blog submissions.

Want to subscribe to the Farm Bell blog? Go here.