I have a confession — I love old dishes. Well, I love old vintage things period, but I especially love old dishes.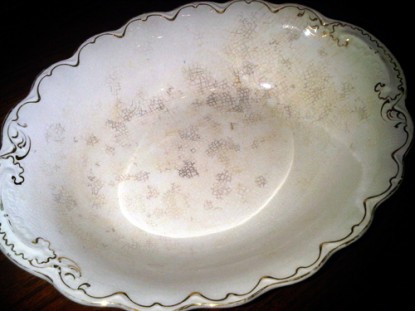 Its an obsession really. I scrounge thrift stores and yard sales looking for the old and obscure. I do not want a set. Just a piece or two. Maybe three if there is a teacup, saucer, and plate. Serving platters make me swoon and I get stupid silly over creamer and sugar sets. My inner Joann (my grandmother who buys and hoards everything) insists on buying them. I bring them home and sometimes they end up on the walls to adorn my kitchen. Sadly, more often than not, they end up packed away or stacked up in the top of a cabinet. Not quite the best way to utilize something I just went nuts over.
But Joann is screaming in my ears — "This is very old, very expensive, its worth SOMETHING!!!" Well, how in the heck am I supposed to know what it's worth??? I've listened to this voice for years, diligently packing away my finds and wistfully looking at them in boxes on occasion. One day I decided this was stupid and started doing some research. I combed over articles online. I bought a couple of books to help identify the stamps on the bottom of the china.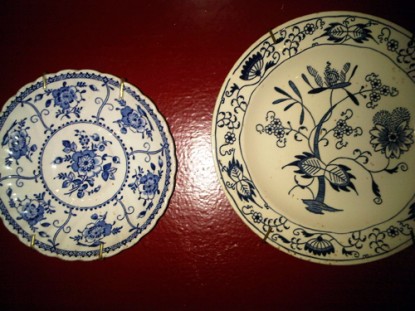 I eventually learned a thing or two. One cup and saucer set is about 110 years old. Eureka! My favorite cup is at least 90 years old and what I thought was silver is actually platinum. Neither are in perfect condition and therefore aren't worth squat. In fact, nothing that I have bought is in perfect condition. Many of the dishes are chipped, some are cracked, others have the most dazzling display of crazing going on. Oh, how I love the crazing! In other words, they are only valuable to me and here I am, boxing them up and putting them away for nothing. What a waste!
Not that long ago, someone grabbed a serving dish and actually SERVED something we made for dinner in it. The audacity of them! I don't remember if this was intentional or accidental. My first thought was to let Joann speak through me and scream at whoever did it that they were crazy ruining such a treasure like that. But, then I remembered, the entire thing is crazed. There is not a single spot on the dish where the glaze has not cracked. The gold has been worn away in many places, and it is the most beautiful thing on my table, especially when its filled with the food I cooked for my family.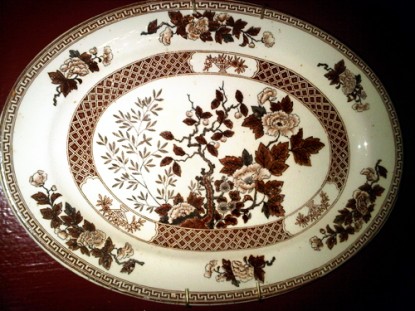 Over the years I have been on the quest for the perfect dishes. When my kids were little we had nothing but plastic. Eventually I moved up in the world and bought breakable dishes for the adults to use. I can't tell you how many sets of dishes I have gone through, never really being in love with any of them for very long. On the other hand, I have mismatched stuff – coffee cups, bowls, etc – that were given to me for one reason or another, as a single piece. Those are my favorites and stay in use constantly.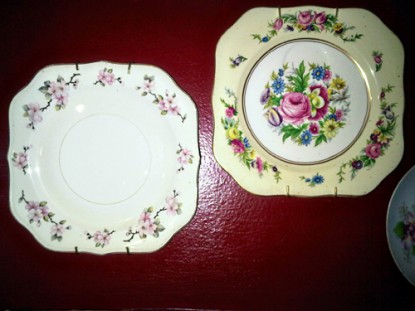 I was making myself breakfast this morning and saw a stack of china that I had recently pulled down from the top of the cupboard. I'd come to the point where I was ready to give up my obsession with old china altogether and donate my treasures back to the shops where I'd rescued them from. It's wasteful to spend the money, no matter how little, on the dishes that never get used and aren't worth anything, so why keep them? Just after I pulled the biscuits out of the oven I turned and reached for one of my plain black stoneware plates, and that's when I saw my stack of apple blossomed, gold detailed, square saucers. I didn't even give the black plates a second thought. I grabbed the prettier plate instead, carefully washed and dried it, and promptly served my breakfast on it, then ate very well.
And this made me very, VERY happy!
I think the old dishes are going to stay — does anyone need some plain black stoneware?

Interested in contributing a guest post to the Farm Bell blog? Read information here for Farm Bell blog submissions.

Want to subscribe to the Farm Bell blog? Go here.