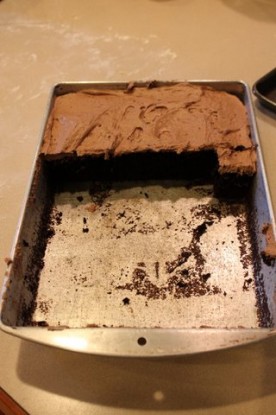 mocha icing recipe
to go with this cake.
Difficulty: Easy
Servings: 10-12
Prep Time:
20 minutes
Cook Time:
35 minutes
Ingredients
2 cups flour
2 cups sugar
3/4 cup cocoa
2 teaspoons baking soda
1 teaspoon baking powder
1/2 teaspoon salt
2 eggs
1 cup black coffee, cooled
1 cup milk
1/2 cup vegetable oil
2 teaspoons vanilla
Directions
Preheat oven to 350 degrees. Sift all dry ingredients together into a large bowl. Add eggs and liquids, mix until batter is smooth. (Batter will be thin). Pour into well greased 9 x 13" pan. Bake 35 minutes or until done. Cool in pan. Top with your favorite frosting or try the Mocha Frosting recipe. This cake will become more moist the second day. Can be baked in two 8" round pans for 35 minutes. Line pans with waxed paper for easy removal of layers for frosting.
Submitted by: kellyb on May 4, 2010