I am NOT a fan of drinking Guinness. It's way too serious of a drink for me.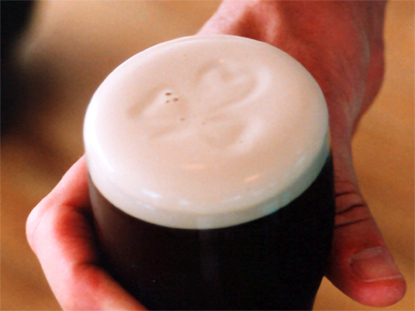 One of the girls at work chose an Irish Pub as her birthday celebration place and ordered Guinness ice cream for dessert. She shared with the rest of us, and I liked it right away. Really!
So, I looked online for a recipe so I could make it at home. I found several, including one that used 15 egg yolks, but the one I based my trial batch on was from Emeril on The Food Network.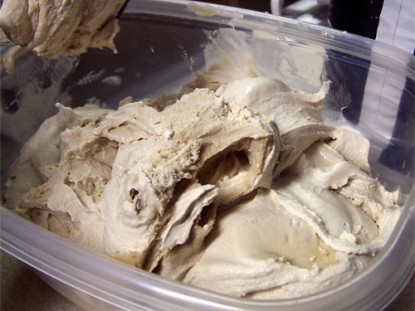 How to make Guinness Ice Cream:
12 oz. Guinness Stout
2 cups heavy cream
2 cups half-and-half
3/4 cup sugar
1 tablespoon of vanilla
6 egg yolks
In a saucepan, simmer the Guinness until it reduced by 3/4. This means you need to cook it down to about 3 ounces.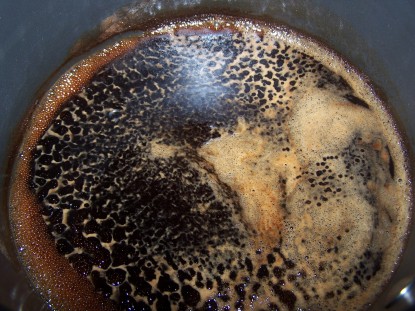 Emeril's recipe says it takes about 8 minutes–it took me about 15 minutes. Pour it into a measuring cup and set it aside. The measuring cup is so you know how much is there. I guess you could use a little more than 3 oz. if you want to!

In a saucepan, combine the cream, half-and-half, sugar, and vanilla. Bring it to a gentle boil over medium heat, then remove from the heat.
In a bowl, beat the 6 egg yolks. I saved the egg whites in two little glass bowls with lids, 3 in each, and I'll either use them when I make a quiche or maybe I'll make a big poofy cake. Angel food, maybe. Doesn't that use a lot of egg whites?
Slowly whisk in 1 cup of the hot cream mixture. Jim (my husband) helped me do this 'cause I'm not exactly coordinated enough to do that. At least not without burning myself or making scrambled eggs in cream anyway. He whisked, I poured.
Then whisk that mixture into the rest of the cream. Jim whisked, I poured. Then cook the mixture some more until it reaches 170 degrees. I used a candy thermometer to see when that happened.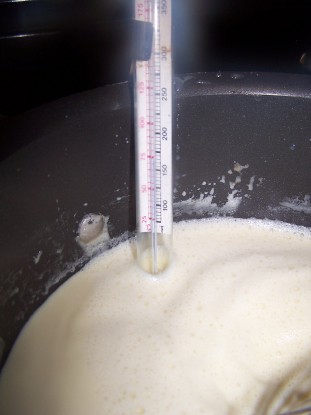 Emeril says to strain the mixture through a fine mesh strainer, then it calls for chilling for two hours. Instead, I poured it into a pitcher and chilled it overnight. THEN I strained it using one of my jelly bags. I'm glad I strained it, 'cause there were a few little chunks.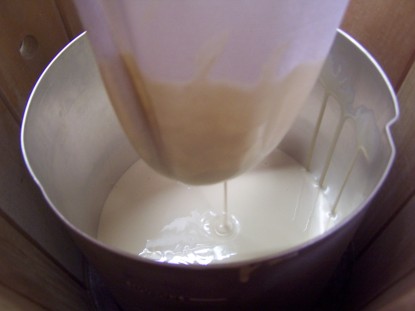 Pour it into a clean container (I used a pitcher 'cause it made it easier to pour later) and cover the surface with a piece of plastic wrap touching it, so it doesn't form a skin. Did you like pudding skin when you were a kid? I did, but Jim canNOT stand the thought of it. Anyway, this would make a pudding skin if you don't put the plastic wrap on it.
I chilled it about 24 hours, 'cause I just didn't have time to make it all at once. Then, I strained it through a jelly bag to get the little chunks out.
In Emeril's recipe it says to add the Guinness reduction after chilling. I mixed it with the cream mixture before chilling. I just didn't want the Guinness sitting around waiting for me to spill it. That's pretty much the only reason.
All you need to do after that is to process it in your home ice-cream maker! Jim helped me do that part, mainly 'cause he just likes to. It took about 30 minutes in our big ol' ice cream maker, maybe a little longer.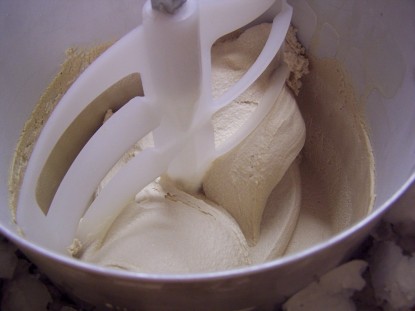 Then you could put the ice cream in a plastic container to "cure."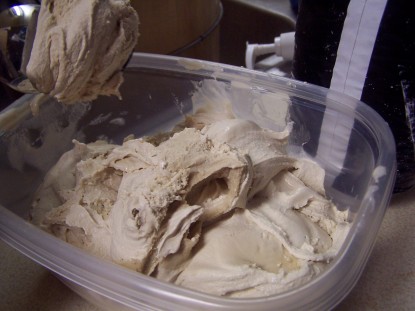 Jim gave me the paddle to lick. Nugget was jealous, but I did share a little and he licked it right up! I should have taken a picture of that, shouldn't I have?
Oh! And another idea. Because I don't like Guinness to drink (and Jim does, but it would take him awhile to drink much of it), we bought a bottle of it that was 24 ounces. It was way cheaper than buying a 6-pack. Plus, we now have 12 ounces left, which is just the right amount to make a nice beer bread with.


Get the handy print page and save this to your recipe box here:
Guinness Ice Cream.
Kathi N blogs at How We're Gonna Do It.

Do you have a recipe post or kitchen-related story to share on the Farm Bell blog?
See Farm Bell Blog Submissions for information, the latest blog contributor giveaway, and to submit a post.

Want to subscribe to the Farm Bell blog? Go here.