When Carolyn made a recipe request for a Concord grape pie, I remembered immediately that I had a recipe I'd been dying to try for some time. It comes from one of the little old ladies at church, which means it has to be good. I posted the recipe and Carolyn tried it out right away and raved about it (even though she forgot the two heaping tablespoons part). Then I knew I had to make it and I couldn't wait. If this was a pie that tastes fantastic even if you mess it up, that's gotta to be some pie.
But I couldn't find Concord grapes anywhere in town. Impatient, I decided to go ahead and try the pie with black seedless grapes, which are sweet and tasty and have the rich color that I knew would make a beautiful pie. That they were seedless was a bonus, so I got to skip the seeding step.
You can hull grapes by pinching them and squeezing out the pulp, if you like, and you often see instructions for hulling the grapes in grape pie recipes. I suspected this wasn't totally necessary, and thought the hulls would contribute something in texture to the pie, so I just added the water and mashed them up all together. At any opportunity, I prefer to not peel anything, and I often find bits of peel add something to a dish. (Did you know you can make grape hull jelly? Dice up the hulls finely and put them into the juice then go on with your regular grape jelly recipe–they add a nice texture and the bits of hull will become very soft as the jelly cooks.)
Back to the pie–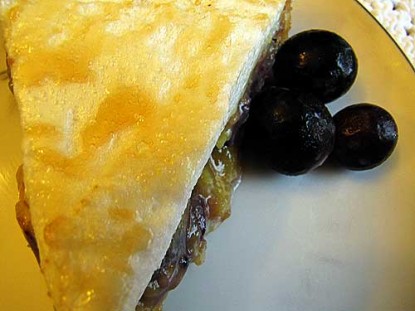 How to make Concord Grape Pie:
1 cup fresh grapes
2 tablespoons water
1 cup sugar
3/4 cup butter
2 heaping tablespoons cornstarch
3 egg yolks
3 egg whites
2-3 tablespoons sugar
Split grapes carefully and remove seeds (if using seeded grapes).
I used a heaping cup.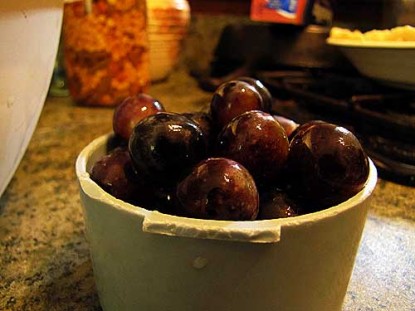 Mash lightly with water.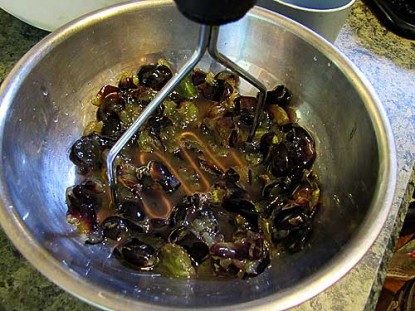 In a separate bowl, combine the 1 cup sugar, butter, cornstarch, and egg yolks; mix well. Be sure to use two heaping tablespoons of the cornstarch. HEAPING.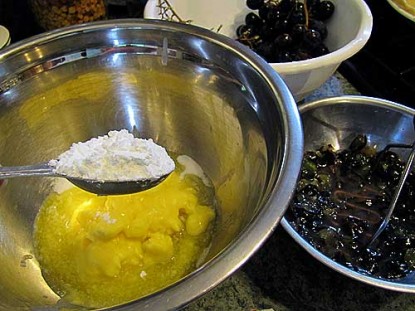 Fold in grape mixture.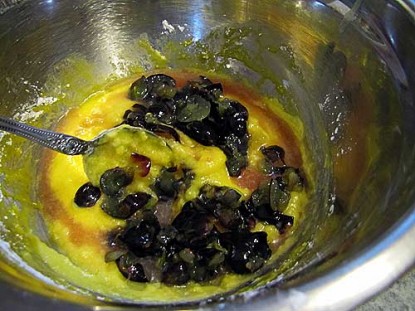 Pour into an unbaked pie shell. (I was making two pies.)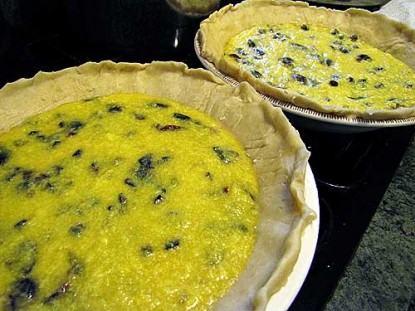 Bake at 350-degrees for 45 minutes. Remove from oven. Make a stiff meringue with the 3 egg whites and 2-3 tablespoons sugar. Spread on top of baked pie.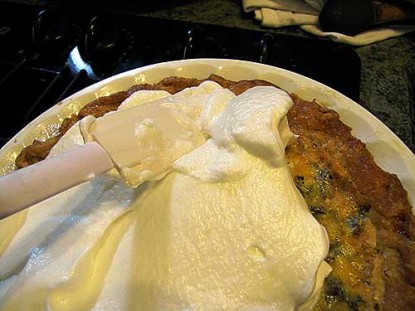 Return to oven to bake (on lower oven rack) for another 20 minutes or until lightly browned. Chill pie thoroughly before serving to allow to set. (At least four hours.)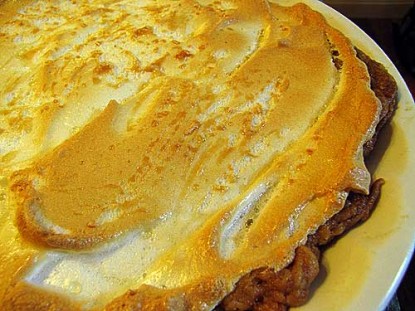 If you have trouble with meringues shrinking, be sure to spread your meringue over the edges of the crust. By the way, sugar stabilizes egg whites, so even if a recipe doesn't call for sugar in beaten egg whites, add a little anyway! It really helps.
As I expected, these pies turned out fantastic. I made two and gave one to Georgia!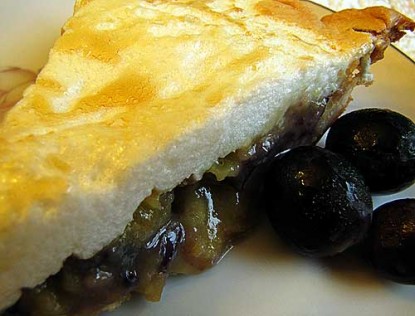 Find this recipe on Farm Bell Recipes for the handy print page and to save it to your recipe box:
Concord Grape Pie
P.S. And here's another grape pie, submitted by Carla:
Mom's Grape Pie

Interested in contributing a guest post to the Farm Bell blog? Read information here for Farm Bell blog submissions.

Want to subscribe to the Farm Bell blog? Go here.