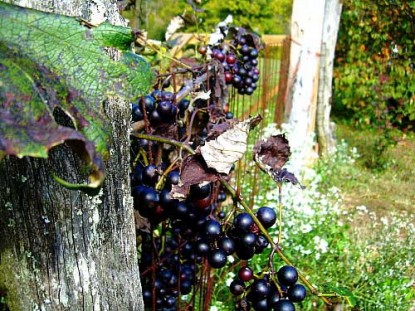 Difficulty: Easy
Servings: 6-8
Prep Time:
10
Cook Time:
40
Ingredients
Filling:
1 cup sugar
1/3 c. flour
1/4 teaspoon salt
2 tablespoon melted butter
1 quart pie grapes
Topping:
1/2 cup flour
1/2 cup sugar
1/4 cup butter
Directions
Mix all filling ingredients together and pour into 2 unbaked 8″ pie shells.
Mix together the topping and sprinkle over the pie.
Bake at 400 degrees for 40 minutes.
***To make pie grapes: Pick grapes off the stem and wash. Squeeze out the middles into one pan and put the skins in another. Cook separately until the middles are opaque. Run middles through a food mill to get out seeds. Dump skins and middles back together. Pour in jars and BWB 10 min.
Categories: BWB Fruits, Pies
Submitted by: carsek on August 20, 2010