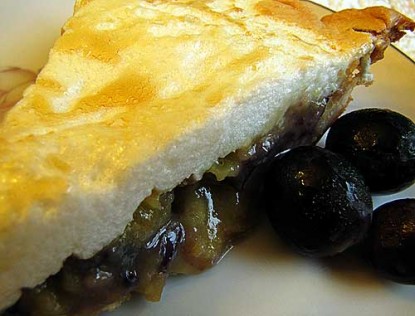 Difficulty: Easy
Servings: 8
Prep Time:
15 minutes
Cook Time:
65 minutes
Ingredients
1 cup fresh grapes
2 tablespoons water
1 cup sugar
3/4 cup butter
2 heaping tablespoons cornstarch
3 egg yolks
3 egg whites
2-3 tablespoons sugar
Directions
Split grapes carefully and remove seeds. Mash lightly with water. In a separate bowl, combine the 1 cup sugar, butter, cornstarch, and egg yolks; mix well. Fold in grape mixture. Pour into an unbaked pie shell. Bake at 350-degrees for 45 minutes. Remove from oven.
Make a stiff meringue with the 3 egg whites and 2-3 tablespoons sugar. Spread on top of baked pie. Return to oven to bake for another 20 minutes or until lightly browned.
Categories: Desserts, Fillings, Old-Fashioned, Pies
Submitted by: suzanne-mcminn on August 19, 2010