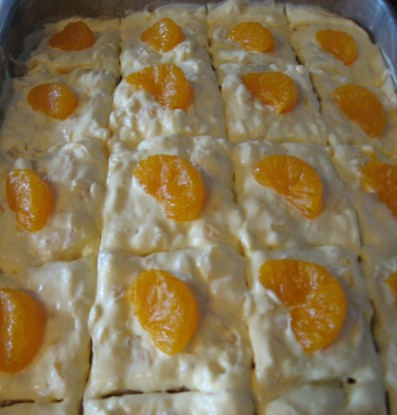 Pig cake.
Sounds dirty.
Sounds like my kind of cake!
It is the new favorite at home as well as with ManSteak's co-workers.
How to make Pig Cake:
Cake:
1 box of Yellow Cake Mix (I used the one on sale)
1 stick margarine (I let it sit at room temp all morning to soften)
14 ounce can mandarin oranges, drained, 1/2 cup juice saved
4 eggs
1 teaspoon vanilla extract
Topping:
4-ounce box vanilla instant pudding
20 ounce crushed pineapple, drained, save the juice
1/2 cup powdered sugar
4 ounces whipped topping (Cool Whip)
another can of mandarin oranges to garnish the cake, optional
Preheat oven to 350 degrees. For the cake, combine cake mix, margarine, 1/2 cup juice from the mandarin oranges, eggs, and vanilla. Beat for four minutes on medium-high. Add drained oranges and beat again until pieces are broken up and small. Pour batter into greased and floured 9 x 13 inch baking pan and bake for 25 to 30 minutes, or until golden brown and set. Remove from oven and cool completely. If desired, turn out cake onto a large platter.
Once cake is cool, blend juice from drained pineapples with the vanilla pudding mix. Add powdered sugar and mix, then mix in whipped topping. Stir in drained pineapple. Spread on cooled cake and refrigerate several hours.
To serve, cut cake into squares and top each square with a mandarin orange slice.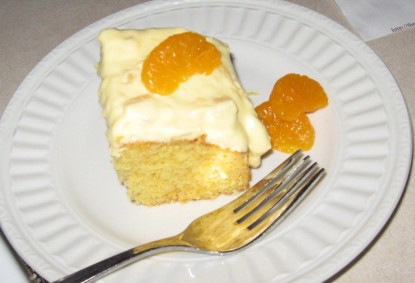 There are many versions of the Pig Pickin' Cake–the dessert served at a pig pickin' (pig roast). It may be known as a Pig Lickin' Cake, a Mandarin Orange Cake, a Pineapple Cake, some with different little variations. This particular one is one I found on Pioneer Woman.

Rachel blogs at The Henway.

Do you have a recipe post or kitchen-related story to share on the Farm Bell blog? See Farm Bell Blog Submissions for information and to submit a post.

Want to subscribe to the Farm Bell blog? Go here.