Bored with just another ham sandwich? I love old cookbooks, especially my great-grandmother's 1927 Butterick Book of Recipes and Household Hints. I love the old recipes, and I love that it tells you everything from how to cook rabbit to how to manicure your nails. (Really! In a cookbook!)
They didn't like to get bored with their sandwiches in the 20s, so here's the list of sandwich ideas–that are still good today! Well, I'm not so sure about #3 with the raw egg white. (You might want to skip that idea.) Check out some of the odd combinations, such as olives and peanut butter. Hmmm….. (You try that and report back, okay?)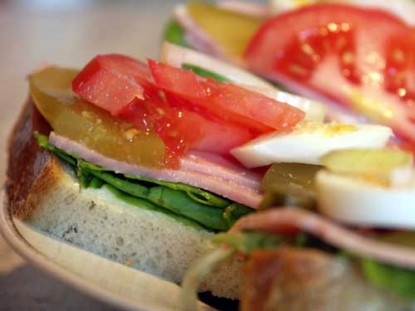 20 Sandwich Suggestions:
1. Raisins worked into Neufchatel cheese.
2. Chopped raisins, figs, dates, or prunes, and nut-meats moistened with mayonnaise dressing or lemon juice
3. The well-whipped white of an egg mixed with a cup each of chopped raisins and nut-meats, seasoned with a little salt.
4. Peanut butter moistened with salad dressing and mixed with raisins, dates, figs, or bananas.
5. Equal parts olives, peanut butter, and celery, mixed with a little salad dressing.
6. Peanut butter mixed with chopped dill or sweet or sour pickles.
7. Cream cheese and chopped stuffed olives.
8. Chopped stuffed olives and chopped nuts, moistened with salad dressing.
9. Cream cheese and shredded pineapple between very thin slices of bread.
10. Tuna fish mixed with parsley, lemon juice, seasoning, and a bit on onion.
11. Cream cheese and chopped nuts.
12. Ground boiled ham and chopped pickles or chopped peanuts.
13. Cottage cheese and pickles, olives, nuts, or pimientos.
14. Currant jam with pounded walnut meats and creamed butter. Pass with cream cheese. Preserved currants may be substituted in this combination.
15. Boston brown bread with cream cheese or mayonnaise and chopped nuts and raisins.
16. Rounds of brown bread spread with chopped olives, minced lettuce, and watercress, tarragon, paprika, parsley, and chives mixed with mayonnaise.
17. Pimientos, cucumbers, and onion or chives, minced, mixed with mayonnaise and spread on buttered whole wheat bread.
18. Green pepper, pimiento, and olives with mayonnaise.
19. Boston brown bread with minced corned beef seasoned with mustard and rubbed to a paste.
20. Cream cheese used with chopped parsley, pimientos, and mayonnaise, chopped nuts, sliced sugared bananas, chopped pineapples, chopped or sliced olives, and shredded sliced apples. The cheese may be rubbed with butter or the creamed butter may be spread on the bread.
They weren't afraid of too much butter and cream cheese back then.
Which one are you trying?
See all the Cookery 101 posts.

Interested in contributing a guest post to the Farm Bell blog? Read information here for Farm Bell blog submissions.

Want to subscribe to the Farm Bell blog? Go here.