I recently posted this status update to Facebook: "Don't offer to hold yard-sales for family. Or, at least wait until Fall. Or, offer burn ointment to shoppers. Or, discount your prices on all melty stuffs. Or, up your prices and proclaim them Modern Garage Art!"
Why? Because of this: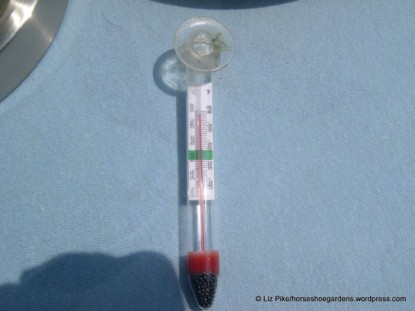 Saying it was hot is an understatement! And yes, I was holding this yard-sale as a favor for my sister who can't do it herself, not because I couldn't get enough of this summer's record-breaking heat waves, nor that I had a death wish. I really didn't mind helping my sister.
Why? Because of this: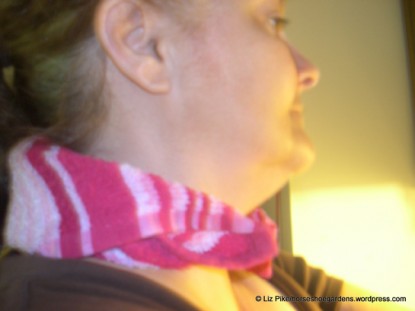 It's my recipe for surviving temperatures more fitting a tropical rain forest, sans monkeys and parrots. (Forgive the blur, hard to hold steady when you're photo'ing yerself!)
When my husband and I were full-time farriers, the only time weather interfered with our work was when temperatures dipped below 15°. And in the Blue Ridge Mountains that occurred for most of December and January. Sometimes November and February, too.
Imagine! Working only 8 months out of the year!  
I'll trade you wallets.
At those temperatures you might as well be driving icicles instead of nails. Add to that the antsy 1200 pound animal already jerking you around trying to increase its body temperature, and the last thing one wants to do is drive an icicle into its foot. Times four. So, we wouldn't shoe in the coldest depths of winter.
But summer? That was another issue.  It's rare for summer high temperatures to totally stop riding in the mountains. Devoted riders will find a way, early in the morning or even at midnight, but they WILL ride and they WILL need shoes for these gravelly trails.  Besides, when you're a farrier, you're already used to working around a 2400° forge, what's a few more degrees?
Starting in June I'd get in the habit of tossing a few wet washcloths into the freezer at night. The next morning, they'd get tossed into Ziploc bags and then into the cooler. Anytime we needed a refresher, we'd take out a washcloth, fold it into a triangle, and then fold again and mold the cloth around our necks. It would still be a little frozen, thus allowing the cloth to stay in place no matter how hard we were jerked or tossed. When the cloth warmed a bit, it was refreshing to use it wipe our whole face, then back in the cooler it went.
On the weekends tending our market garden, or even while canning in an over-heated kitchen, we'd use the cloths again to refresh us. And they stayed on no matter what we were doing.
How to Keep Your Cool:
Washcloths (any cloth will work though terry cloth is preferable for it's ability to hold water)
Water
Freezer
Wet cloths and wring out until not dripping. Cloths need to be fairly wet. Lay in freezer already folded into shape (see photos below). As cloths dry out, re-saturate and refreeze.
I revived this technique for the yard sale, and I survived! So if you've got gardening, canning, cleaning out the chicken coop, or other hot work to do, try this simple cooling technique. You might like it!


Liz Pike blogs at Horseshoe Gardens.

Do you have a recipe post or kitchen-related story to share on the Farm Bell blog?
See Farm Bell Blog Submissions for information, the latest blog contributor giveaway, and to submit a post.

Want to subscribe to the Farm Bell blog? Go here.
What can you enter to win this month? Click here.