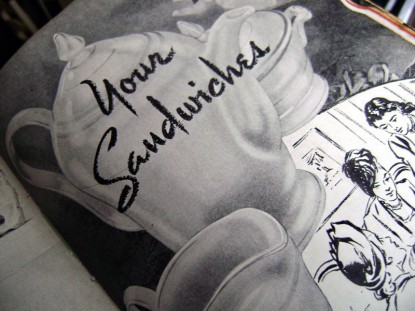 'Tis the Season of parties with family and friends. Mom's 1947 Culinary Arts Institute Encyclopedic Cookbook has sections dedicated to parties with illustrations. Need to know how to set a formal table? It's there. Need to know how to create a Pinwheel Party Sandwich? It's there.
The Pinwheel Sandwiches have me intrigued right now. I've never had a Pinwheel Sandwich made with bread — tortillas, yes, but not bread. Tortillas are the modern form. I'm interested in the "old" way of doing it. Mom said these were always served at all of the "Tupperware" parties.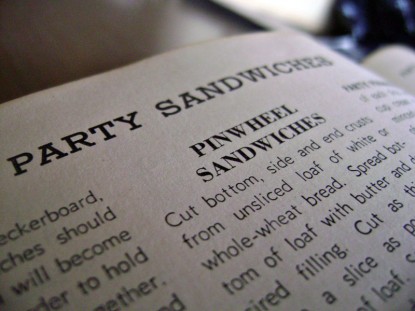 Pinwheel Sandwiches:
Cut bottom, side and end crusts from unsliced loaf of white or whole-wheat bread. Spread bottom of loaf with butter and desired filling. Cut as thin and even a slice as possible from bottom of loaf. Start at 1 end of the slice and roll up tightly as a jelly roll. Wrap in a damp cloth and chill. Cut into thin slices across the roll. Serve plain or toast lightly under broiler.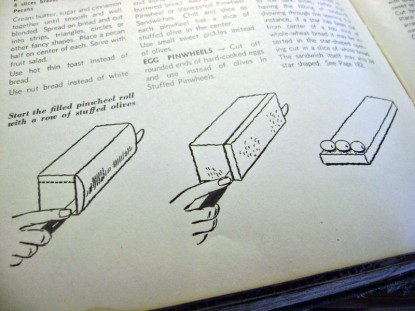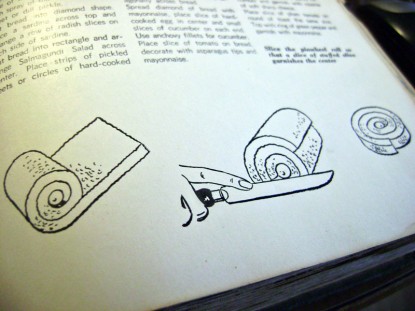 Variegated Pinwheels:
Cut crusts from a loaf of white and a loaf of whole-wheat bread. Spread ends of loaves with butter and filling and slice very thin. Roll 1 slice of white bread as for a jelly roll. Then roll a whole-wheat slice, then a second white slice. Chill and slice roll.
Party Pinwheels:
Spread 1/3 of each slice with mixture of 1 cup cream cheese and 1 cup minced parsley. Spread remainder of slice with deviled ham and sprinkle with paprika. Roll, starting at cheese end. Warp in damp cloth and chill. Slice thinly. Each roll makes 10-15 sandwiches.
Fillings:
The filling should be the type which will become firm when chilled in order to hold the pieces of bread together — savory butters and cream cheese mixtures are especially good.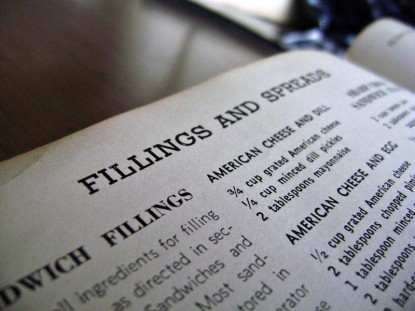 Cream cheese and pimento — cream cheese, cucumber and radish — cream cheese, nut, raisin — cream cheese and chicken — cream cheese and chipped beef — cream cheese and chives — cream cheese and jam — cream cheese and marmalade.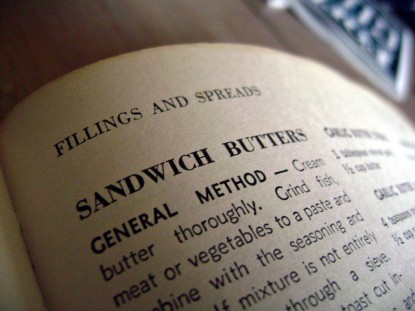 Butter and Parmesan cheese — butter and drained chili sauce — butter and chives — butter and garlic — butter and horseradish — butter and lemon and minced onion — butter and mustard — butter and olives — butter and parsley — butter and pimento.
The combinations are almost endless! I can't wait for the first party — to take my cute little sandwiches!
See all the Cookery 101 posts.

Interested in contributing a guest post to the Farm Bell blog? Read information here for Farm Bell blog submissions.

Want to subscribe to the Farm Bell blog? Go here.