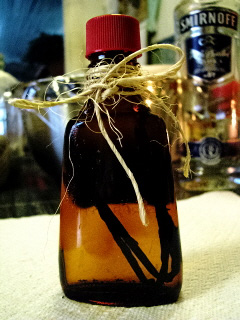 Difficulty: Easy
Servings: 2 oz.
Ingredients
1 2-ounce vanilla jar
slightly less than 1/4 cup vodka
1 tablespoon dark rum
1 vanilla bean
Directions
With kitchen scissors, cut the vanilla bean in half lengthwise, leaving about an inch connected (not cut) at one end. Combine the vodka and rum. Using either a funnel or a measuring cup with a pouring spout, add alcohol to the washed and dried vanilla jar.
Push cut vanilla bean down into jar. Close lid tightly.
Add twine, raffia or ribbon, and stick on a pretty hand-lettered or printed label if you choose (and particularly if you are planning to give your jars as gifts).
Store the jars for two months in a cool, dry place (like your kitchen cabinets, away from your oven). Occasionally, reach in and shake the jar a bit. The extract will be ready in two months, and will remain good for years. (If 2 ounces of vanilla extract lasts years, you aren't making enough cookies!) In the meantime, keep collecting vanilla bottles from your friends, neighbors, and family, and make more–for yourself, and for gifts. Re-use the jars you keep–always have one jar ready to use while another jar is maturing. Never run out of vanilla again!
Notes:
1. The recipe can be easily adjusted according to the size of bottles you have available.
2. Shake before each use. Don't worry about the little bean specks in the liquid. That is good stuff! You know how when you see real vanilla bean ice cream and there are dark specks in it? That's the real vanilla bean in the extract used to make the ice cream. You want those specks!
See the Big Bottle Method here.
Categories: Gift Basket Goodies, Ingredients & Mixes, Substitutions
Submitted by: suzanne-mcminn on September 19, 2010