I really, really struggle with Christmas! In a good way, I guess. I love to bake and there are so many good cookie recipes out there with so little time that my ambition far exceeds my ability! I love the glitter and magic and spirit that surrounds Christmas–I really try not to let the material part of the season get me down.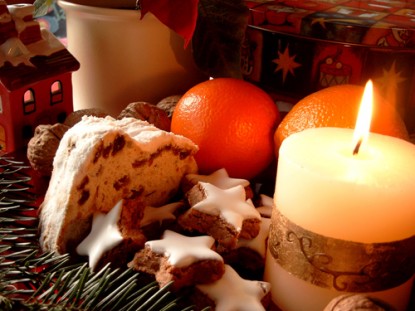 One of my most wonderful, amazing, and memorable Christmases–the one that fills me most with the feeling of Christmas magic, occurred about 20 years ago. I was in the midst of a nasty divorce. I was still very close with my soon-to-be ex-in-laws although my heart had truly been broken by their son. My two children were 7 and 3 and the whole ordeal was definitely taking the Merry out of Christmas for us all. One evening shortly before Christmas, my kids and I were heading out to my ex's store's Christmas party (my ex-husband owned a video store downtown). It was a gorgeous night – painfully dark with just a sliver of a moon. It was blowing and snowing because it always blows and snows in the snow-belt of northwestern Pennsylvania. We trudged down our path to the sidewalk in front of our house and we heard the faint jingle of bells from up on the hill. When we looked, Father Christmas appeared in a whirl of snow illuminated by a streetlight–I am telling the truth. For a moment, time stood still. I heard both of the kids gasp in disbelief. Then Santa gave us a wave, hollered Merry Christmas and with another blast of wind and a blinding flurry of snow, he disappeared.
This was exactly the magic we needed. Our lives changed that evening and we truly enjoyed ourselves at the party surrounded by so many people–some who used to be family, and some who would always be family.
In celebration of this magic, I would like to share the recipe for my most favorite cookie ever: Cinnamon Crescents that I found in an issue of Yankee Magazine more than 20 years ago.
1 pkg (2.25 tsp yeast)
1/4 cup lukewarm water
3 cups flour, sifted
2 1/2 Tablespoons sugar
1 cup butter, melted
2 eggs beaten lightly
In a large bowl, sprinkle yeast over the water and stir to dissolve (I let it sit for about 5 minutes).
Add the flour, stir a bit. Add the sugar, melted butter, and beaten eggs and mix until well-blended. Cover the bowl tightly and refrigerate for at least 3 hours or up to 3 days (or freeze).
Filling:
1/2 cup sugar
1 Tablespoon cinnamon
1/2 cup or so of ground nuts – I use walnuts
Preheat oven to 350.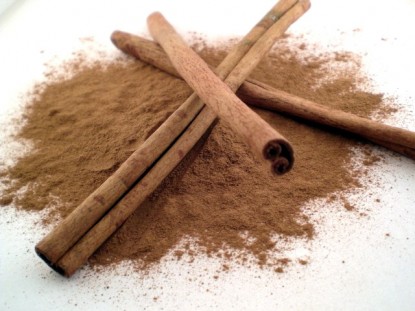 Mix sugar and cinnamon together and set aside. Divide pastry into 6 parts. Sprinkle a bit of the cinnamon/sugar mixture into a pie pan. Roll out one part of dough and press into the pie plate. Sprinkle generously with cinnamon/sugar mixture and ground nuts. Cut dough into 8 wedges and roll crescent style. Let rest for about 15 minutes. Bake on ungreased cookie sheets at 350 for 12 – 15 minutes.
These are great–you can mix up the dough and refrigerate or freeze until you are ready to make them. I usually make up several batches of the dough, then prep and bake them when needed. They are amazing with a hot cup of coffee.
Get the handy print page and save this to your recipe box here:
Cinnamon Crescents.

Beth blogs at One Old Goat.

Do you have a recipe post or kitchen-related story to share on the Farm Bell blog?
Read information here for Farm Bell blog submissions.

Want to subscribe to the Farm Bell blog? Go here.